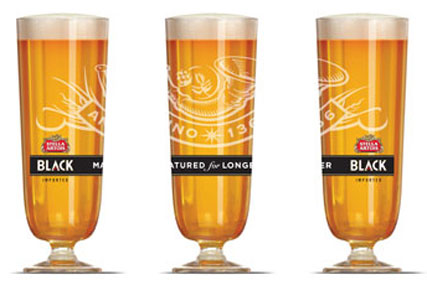 Stella Artois Black looks set to be the first in a series of variants launched by the brewer. With an ABV of 4.9%, it is slightly less alcoholic than the original 5% lager, but also darker. Its introduction will follow that of Diageo's Guinness Black Lager, which is being trialled in Northern Ireland.
Stella Artois Black will be rolled out to bars and pubs in the autumn. There are no plans for an off-trade launch.
The lager's branding – white text on a black background – is intended to appeal to 20- to 30-year-olds. It will appear on beer pumps, point-of-sale material and glassware. The strap­line is
"Matured for longer".
AB InBev president Stuart MacFarlane explained that the lager is likely to be consumed during "down-tempo, reflective" occasions, rather than on big nights out.
Despite limited success with similar previous ventures, he also hinted at further brand extensions to Stella Artois, which already has a 4% variant.
He said: "A twenty-something consumer has grown up with six or seven different types of Coca-Cola. They have grown up in a world where you can have one brand that stands for different occasions and different flavour profiles.
"Why can't we do what Coke did?"