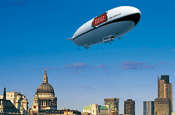 The airship will hover above the capital's streets for six weeks later this summer.

Stella's brewer, InBev, has signed the deal with the Star Over London airship.

InBev UK president, Stuart MacFarlane, said: "We are incredibly excited to be able to offer Londoners and the city's tourists the opportunity to enjoy such a unique, memorable and pioneering experience on the Stella Artois: Star Over London."

Flights will take off from near Upminster between 10 July and 21 August, with a maximum of 12 people per flight.