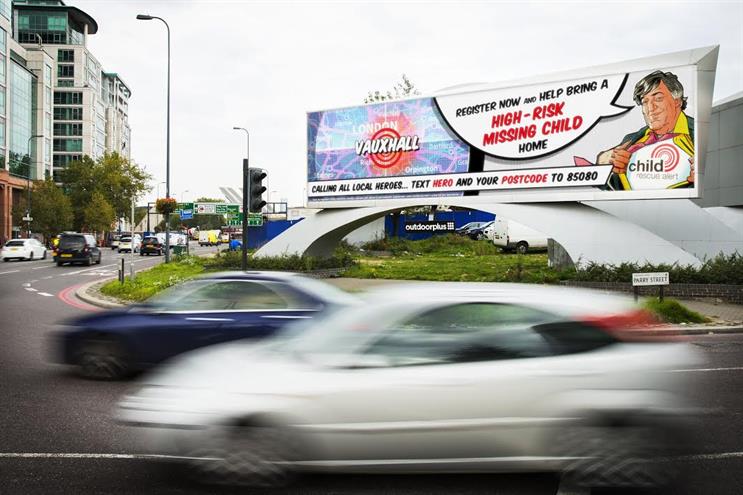 Created by Grand Visual, the outdoor production agency, the campaign aims to push the number of people signed up to missing child text alerts to one million.
Stephen Fry, a patron of Missing People, is fronting the campaign. The actor was caught up in a Twitter storm after calling Mad Max: Fury Road costume designer Jenny Beavan a "bag lady" while presenting at the Baftas on Sunday evening.
In the ad, an animated Fry is seeing ripping open his shirt in the style of Superman.
Local audiences will be asked to become "local heroes" and "help bring a missing child home", with real-time data from Grand Visual's OpenLoop platform used to optimise this message.
The nationwide campaign, live for two weeks, uses data to drive programmatic creative and deliver real-time and geo-targeted messages to increase the number of people registered to receive text message alerts when a child goes missing in their area.
Clear Channel, JCDecaux, Outdoor Plus and Primesight have all donated digital billboard space for the cause. Sixty million impressions are expected over a two-week period.
The Child Rescue Alert system is managed by Missing People, the National Crime Agency and messaging company Groupcall. It was originally funded by the People's Postcode Lottery in 2014, but this year it is funded by the Royal Mail.
Fry said: "I am delighted to be the animated face of this campaign as I believe that Child Rescue Alert should be a national institution – something for everyone to find out about and sign up to.
"It reminds me of a fire extinguisher – everyone should have one ready to use at a moment's notice but we all hope that we will never need it.
"The current recruitment drive is delivered by fun and engaging film and a digital billboard campaign incorporating some really clever OpenLoop technology which analyses sign-up data in real-time and optimises the digital billboard messages in order to target recruitment in areas that need better coverage."