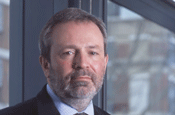 Tony Wright, the chairman of Lowe Worldwide, is leading the search for Gatfield's replacement alongside Michael Roth, the chief executive of Lowe's holding company, Interpublic Group.

Wright and Roth have already begun discussions with a number of candidates, both in the UK and internationally, for the London-based role.

Gatfield is leaving the network to focus on identifying emerging channels, new ventures and markets, especially in relation to new technology, for IPG.

He will continue as IPG's executive vice-president, strategy and network ope¬rations when his three-year contract with Lowe ends.

Gatfield's departure follows that of the Lowe London chief executive, Amanda Walsh, in January. Walsh has not been replaced, but the network is putting together a worldwide executive management team in London, made up of existing global directors, to lead the business in partnership with Wright.

Gatfield succeeded Wright, who was promoted to chairman of the network, in 2006. The pair were briefed to slim down the operation, which had 84 global offices following the merger in 1999 of Lowe Howard-Spink with Ammirati Puris Lintas, and to focus on markets in the UK and the US.

Gatfield said: "We are committed to building a Lowe executive management team based in London that will take the new Lowe organisation to greater heights now that it has been stabilised and is profitable. We are looking for a candidate to replace my role."

Roth said: "Under Tony and Steve's leadership, Lowe continues to make very good progress and has reclaimed its place as a global creative force. The decision to begin a search and ensure smooth management transition has been in the works for some time. All the key parties at both Lowe and IPG have been engaged constructively in this process. We have a very strong and stable senior team at the agency and we have every confidence in their ability to keep Lowe on its current positive trajectory."