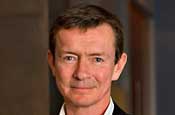 Harrison, who is understood to be taking a break from the industry, founded HTW six years ago following the acquisition of his hotshop HPT by the Wunderman-owned agency Impiric.
#One of the most inspirational creatives in UK direct marketing, he won the inaugural Cannes Lion Direct Grand Prix, as well as three other gold, five silver and two bronze Lions for work on clients including IBM, Star Alliance and Microsoft.
Harrison's departure follows a management restructure at Wunderman. In February, Marcus Stark was made the head of Wunderman EMEA and in June, John Butler was appointed chief executive of HTW London.
Since then, the agency has lost several of its blue chip clients. Vodafone, M&G, Star Alliance and Microsoft have all moved their business elsewhere.
HTW has also lost several key members of staff in the past few months, including joint managing directors John Hiney and Suzanne Partridge, who left in October last year, as well business directors David Mobbs, Giles Horton and Howard Geisler.