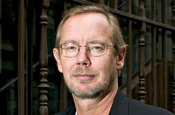 He now plans to take some time off to contemplate various options.

Henry joined the agency from United, the agency he launched as Howell Henry Chaldecott Leary, in May 2006.

He said: It's been a fantastic trip, and I wouldn't have changed it for the world. But I want to move on to a different challenge now, and with a number of senior hirings bedded in, now's the time.

Tim Lindsay, the group president of TBWA, added: "Steve is a big figure in the industry and has made a commensurately major contribution during his two years at the agency. He leaves some great work behind him, and he goes with our thanks and best wishes."