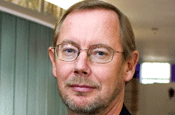 His departure is understood to be the result of a difference of opinion between Henry and Tim Lindsay, the group president of TBWA\London, about the direction of the agency's creative department.

It is believed that Henry thought the agency should be concentrating on newer forms of advertising, while Lindsay thought it should have a more pronounced focus on the big idea and high-profile TV work.

The agency is looking externally for a replacement to fill the position.

Henry joined TBWA in 2006 at a time of instability following the departures of Trevor Beattie, Bill Bungay and ?Andrew McGuinness, who left to launch Beattie McGuinness Bungay.

Soon after his arrival, Tony McTear, and Danny Brooke-Taylor, the joint creative directors, left the agency to join Fallon and Miles Calcraft Briginshaw Duffy respectively.

Since Lindsay's arrival at the agency he has made a number of hirings, including Al Young, the former creative chief at FCB London, who was recently promoted to become the deputy executive creative director.