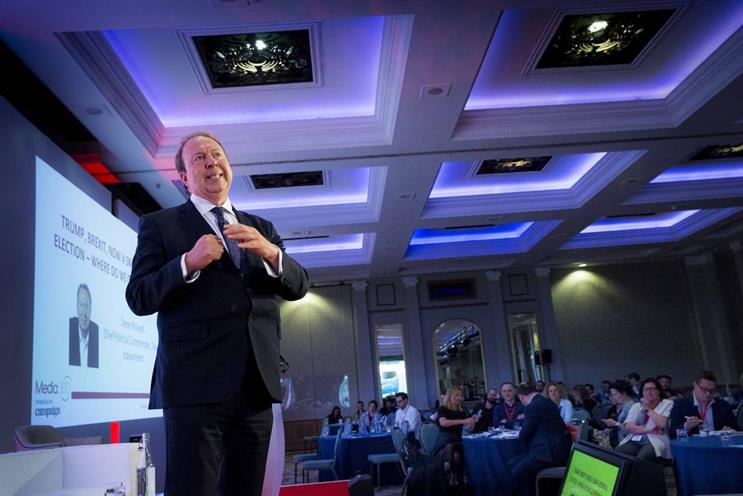 Richards predicted that the negotiation process would prove to be an unpleasant experience for Theresa May, even if she wins June's election with a substantially increased majority, as pollsters and pundits expect.
"However big she wins, however mighty she is the Friday after the election, she will be in a daunting position because of Brexit," he told the audience at the conference in Brighton on 18 May. "The reason it's going to be so demanding is partly to do with stamina."
Referring to David Cameron's negotiations with the European Union, to change the terms of the UK's relationship with the bloc, he said: "Cameron said the negotiation was the most exhausting thing he's ever had to do. Imagine what it's going to be like for Theresa May. Multiply by 1000.
Richards made a number of other observations that brought the strangeness of the current political context into sharp relief.
He discussed how Cameron, like his predecessor, Tony Blair, was obsessed with image, making sure than when on holiday he was always photographed wearing a navy shirt. But "May is so far from the flash of Blair and Cameron, it's getting weird," he said.
On Labour, he observed that many MPs were campaigning despite not throwing their support behind Jeremy Corbyn. With the Tories far ahead in the polls, he remarked that their message often amounted to: "Please vote for me, it's perfectly safe because we're going to lose".
Both May and Corbyn were in positions they never expected to be in, Richards said. Commenting on Corbyn's well-observed fondness for spending time at his allotment, Richards said: "Jeremy misses his courgettes more than anything in life."
Asked by an audience member whether Cameron's decision to call the referendum had been the most reckless move in British political history, Richards stated that he tried to have impartiality, but added: "Let me retain that impartiality by hesitating and then saying: yes."