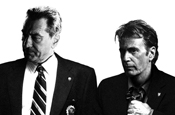 The posters, for the film Righteous Kill, contained the text: "There's nothing wrong with a little shooting as long as the right people get shot."

The Advertising Standards Authority rejected complaints that the posters glamorised violence, but said they should not have been posted at the station where de Menezes was shot.

It said: "We understood the siting of the poster at the station was unintentional but nevertheless considered that the text… on a poster had the potential to cause serious offence in that location."

CBS Outdoor, on behalf of London Transport, said it was an unfortunate oversight that the poster was sited at Stockwell station.

It said the poster was immediately removed when it became aware of the Menezes inquest.

A TV ad for the film Bangkok Dangerous was also banned by the ASA this week because of "substantial amounts of violence involving guns".

An internet ad for the Guy Ritchie film RocknRolla was deemed in breach of advertising rules for condoning violence and as irresponsible because it could be seen by children.