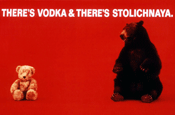 A representative for SPI, the brand's Russian owner, has contacted London agencies with a view to putting together a longlist to pitch for the business.
The winning agency will be asked to create a campaign that will initially run in the US and the UK before being rolled out internationally.
The work is expected to prompt a change from its current advertising strategy, which is based around Soviet-style themes, and instead focus on more contemporary communications.
The company is looking to extend its consumer base in new markets, as well as cement customer loyalty in existing regions.
Last year, SPI doubled its digital marketing budget to £1.5 million on the back of securing increased distribution rights in global markets.
Stolichnaya is currently distributed by Pernod Ricard in the UK, and Publicis is the incumbent on the account as part of its remit as a Pernod Ricard roster agency.
However, the drinks giant has recently acquired the Vin & Spirit Group, the owner of Absolut Vodka, from the Swedish government for €5.63 million after a four-month auction.
Stolichnaya is likely to have to secure a new UK distribution arrangement as a result
of the deal.