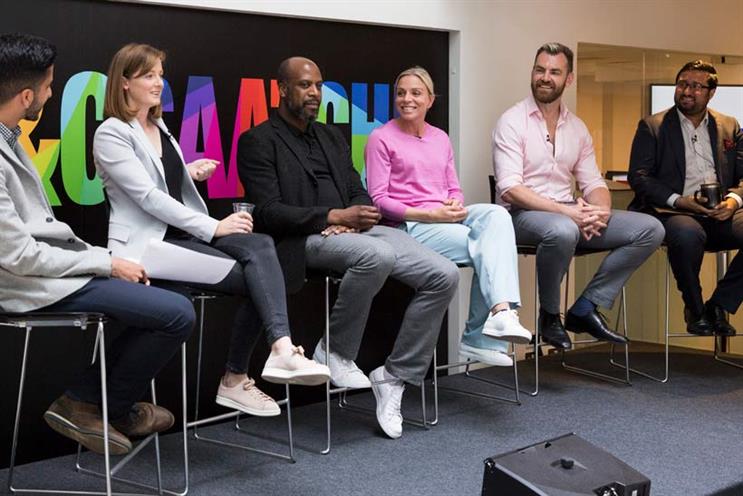 This was just one of the key themes of a thought-provoking and wide ranging panel discussing the representation of LGBT+ people in the media, which took place at M&C Saatchi London yesterday morning.
Kate Richardson-Walsh, the Olympic-winning hockey player, urged the media to stop sensationalising sexuality. She said the fact the media still tries to 'out' gay footballers is creating a 'toxic environment' where a footballer would be reluctant to come out not because of the public response to them, but because of the media response.
Fellow Olympic-winning hockey player and Kate's wife, Helen Richardson-Walsh, said that language plays an important role in everything. "If we can get that right and stop the slurs that's a start," she added.
Beyond the rainbow
The panel urged the industry to move beyond tokenistic acceptance of LGBT+ rights and instead take a long-term approach driven by empathy and inclusivity. Kate Richardson-Walsh says that many of the sports governing bodies remain 'pale, male and stale' and are therefore only prepared to 'open the door to rainbows on one day'. Instead of this approach, she urged the industry to think about this part of the community for the long-term.
Asad Dhunna, director of communications for Pride in London and the host of the panel, said there is a huge disparity in what people really care about and what the media focuses on. He pointed to The Sun's much criticised 'Tran and wife' headline, which marked the marriage of Hannah Winterbourne (the UK's highest-ranked transgender soldier) and Jake Graf this March.
The headline, which was widely criticised on social media for being "moronic, offensive, gutter-scraping, brainless shit", served as a reminder of how far the media still has to go when it comes to trans representation.
Kate Richardson-Walsh added that there was "a storm rumbling" when it comes to sports governing bodies and trans people. She explained: "There is a lot of scaremongering and sensationalization of [trans people] in the media and that's a really hard place to be. The sports governing bodies are behind the curve at the moment."
We need to talk about football
Football was also identified as a specifically challenging environment for LGBT+ people both as athletes and supporters. Rishi Madlani, who heads up Sustainable Finance at RBS and is also co-chair of the bank's LGBT+ network, said that the chairman of the Football League did not even know what LGBT+ means.
He expressed his fear about LGBT+ supporters travelling to Russia for the World Cup, explaining: "There are progressive voices in the FA but you need both change from within and pressure from external forces for change. There is also a commercial interest for football to drive change as you need to create safe spaces for LGBT+ supporters to attend."
According to Madlani women's sport has been much more inclusive than men's sport. "Football has specific problems," he said, pointing to the fact that sensationalist stories surrounding 'outing' gay footballers remain. He pointed for a need for change and to the fact that the NUJ's media guidelines for writing about LGBT+ people were last updated in 2014.
Dr Robert Berkeley, an academic and activist for equality and justice and a project director at the BBC, said that "whilst we are very good at looking for ourselves [in the media's output] but we are at a stage where we have a broad acceptance and moving beyond that to empathy is the next challenge". Pointing to the moves that the BBC has made to improve and boost the broadcasting of women's sport, he noted that there is sometimes feedback that asks "why are we bothering". But he added: "It takes leadership to make change and we won't back down because of trolls."
'Pink-washing'
Berkeley shared his concerns about 'pink-washing', saying: "I worry about the way you can be used in an organisation without progressing within the organisation." He explained: "The danger is we end up in a space where we don't implement any change. We want LGBT+ people in the workplace, but we don't want them to change the workplace. I struggle walking in a Pride march behind banks, behind the police – but I'm also committed to being in the discussion. Let's talk to the police, let's talk to the banks and build a manifesto for a new world that includes queer people but doesn't include them in such a way to allow things to go on as normal."
Helen Richardson-Walsh added that upholding the rainbow is an easy, soft way [for brands and businesses] to go out in the world and go into the community. However, she added: "Because we are asking more questions and demanding answers. If you are going to slap [on] a rainbow flag it has to be for the long term not just for show."
If you can't see it you can't be it
The panel also discussed the importance of representation and the importance of role models. Kate Richardson-Walsh said: "If you are able to see it you can be it. Now girls can see women playing football, cricket, rugby, athletic, tennis and think I can do that and look any way I want. I can do that and be any sexuality I want. When I grew up you only saw women playing sport in Wimbledon and the Olympics."
However, Rob Curtis, managing director of Gaydar, shared the fact that shifting the dial on representation is not always easy because the content that makes money isn't always going to be the things that are best for the community.
He explains: "We found that LGBT+ media has gone towards clicks and it does tend to lump stories into the realms of 'poor us' or Tom Daley with his kit off. But there is a huge space in the middle – we started telling stories about LGBT relationship with money. How do you get a mortgage when you might not have a partner until later in life, for example."
The panel disagreed on the way in which LGBT+ people are currently portrayed in advertising, with the BBC's Berkeley cautioning against the trend towards focusing on 'respectability.' "The whole – he is gay but he is also married, or they are gay, but they have children. I would like to get a point where we respect people for who we are." While Helen Richardson-Walsh noted that she likes seeing ads with gay people simply "living life just like anyone else".
The benefits of bringing your 'whole self' to work
The importance of building organisational cultures in which people can bring their 'whole self' to work was another theme of the panel. As was the pressure and personal toll of masking your sexuality in order to fit in.
Gaydar's Curtis shared his experience of working in consultancy and feeling like he could not come out. "HSBC has a thriving LGBT network, but in a lot of the smaller banks it is still a boy's club," he said.
In contrast at Gaydar the ability to simply be himself improved both his performance and engagement. "What I realised was how much more I could do because I could be myself," he explained.
Commenting on the attitudes of young people towards equality, race and LGBT+ rights, Berkeley said that visibility is having an impact. "You look at shows like Sex and City and Friends and you look at how white they are and they wouldn't be made like that now. The kinds of images in the media and representation is changing." A shift that he believes, in his bubble at least, points towards a greater understanding of sexuality.
These positive winds of change were also noted by Helen Richardson-Walsh, who says we have seen a change in attitudes. She said: "Young people are much more open to others differences whatever they are." A shift which means improving the representation of LGBT+ people in media and advertising needs to be more than just embracing a rainbow, but a long-term commitment to better represent LGBT+ communities both in the creative output and within businesses themselves.