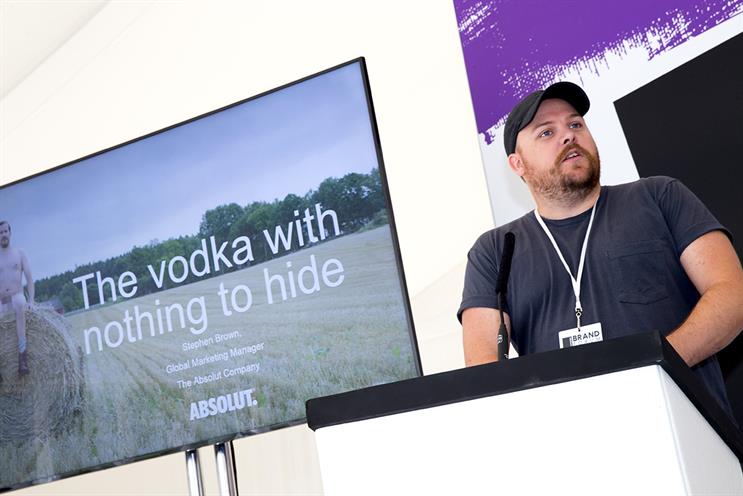 Speaking today (28 June) at Campaign Brand Forum 2018 at the Oakley Court in Windsor, Brown, Absolut's global marketing manager, shared insights from the vodka brand's recent "Nothing to hide" campaign featuring nude employees.
The campaign, by Bartle Bogle Hegarty London, saw staff at its Swedish distillery remove their clothes to emphasise the transparency of its vodka-making process, which Brown said helped Absolut to convey its sustainability credentials through a "frank" creative and "authentic" story.
The activity – which saw Absolut fall foul of Facebook's rules governing nudity in social media content – formed a part of the brand's broader "creating a better tomorrow, tonight" philosophy.
Brown argued that Absolut has been a "progressive brand" for over three decades, and was one of the first companies of its kind to begin advertising in LGBT-oriented media. With society finding itself in a "weird state of flux", in light of political populism and a rise in hate crime, he said marketers must step up.
"A lot of people talk about progressive issues, but we feel like we need to act," he added.
Earlier this month, the Pernod Ricard brand wrapped two London buses in a rainbow print to support the LGBT+ community. Passengers were able to donate to LGBT equality charity Stonewall by tapping their smartphones on the back of the seats, which Absolut said was a media first. NFC chips had been integrated into bespoke vinyl ads on the seats.
The importance of acting on core values and beliefs was reiterated by Tara Button, the founder of eco-ecommerce portal Buy Me Once, which encourages consumers to purchase durable products.
Button, a former ad creative at Krow Communications, said she felt dissatisfied at helping brands to sell more unhealthy products. She claimed the idea to launch the platform "stalked" her for years and would "wake [her] up at night, until a breakthrough in 2016 when Buy Me Once was featured in numerous global media outlets.
She urged fellow creatives "leave behind" the brands they believe are a detrimental to the planet and to society, and to "find those brands that are going to help the world" and assist their development.
Reflecting on the recent BBC documentary series narrated by Sir David Attenborough, she added: "You only have to look at Blue Planet to understand the power of storytelling."