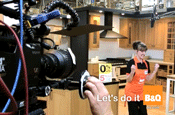 The campaign, "Real staff, real value", charts the progress of B&Q staff as they rehearse their lines for the ads. In one execution, employee Lynne Bird is seen learning her lines in the kitchen, while in another, B&Q worker Dave Kirwan is tracked as he rehearses on a park bench.
Each ad then cuts to the employee doing a piece to camera, selling a particular B&Q range, and ends with a tweaked version of the brand's long-running "Let's do it" strapline, which has been changed to: "Let's do it... let's B&Q it."
B&Q first used store staff in its ads in 1996, with a campaign that introduced the retailer's legion of "in-store experts". Since then, more than 500 B&Q employees have featured in ad campaigns.
Jo Kenrick, the marketing and customer proposition director at B&Q, said: "Our research indicates that in these uncertain times, people feel more confident shopping in well-known, multiple retailers with expert staff. This ad campaign goes back to our roots and taps into the existing goodwill people have for our store staff."