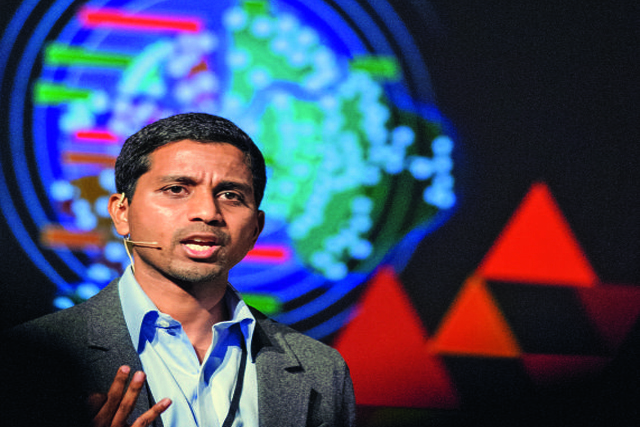 James Cameron, Dame Vivienne Westwood, Heston Blumenthal, Steven Levitt – what drew all these luminaries together to speak at iEX?
Nigel Vaz: We brought SapientNitro's third Idea Exchange, or iEX, to London with the idea to combine a unique set of storytellers – from the worlds of film, fashion, food and economics – to discuss how storytelling has evolved across a connected, always-on world.
Brands and agencies need to look for how storytelling is transforming in the world around us and so we invited people that are redefining storytelling in their own field: James, through combining creativity and technology to fundamentally change the way stories are imagined through film; Vivienne, who uses fashion as a platform to allow people to express and share their own stories; Heston, by shifting the perception of food from consumption to a multisensory experience with a strong narrative; and, finally, Steven, who has a unique way of looking at data to uncover authentic stories and the hidden narrative.
The work these individuals have done to break the mould has many parallels with the way SapientNitro is evolving brand stories to what we call "StoryScaping".
Storytelling has been part of agencies' lexicon for a while now. What's different about StoryScaping?
The best brand narratives come from a place of belief and authenticity – knowing what you stand for and having a clear vision for what you're trying to convey. The power of narrative, rapidly evolving media and changing audiences are coming together to provide an opportunity to reimagine the way our industry has been doing things for a very long time.
In contemporary communications, storytelling has evolved to become story-yelling. We have to move forward to allow consumers to "live" brand stories. StoryScaping is the vehicle to move consumers through that journey from storytelling to story-living: it's about creating never-ending narratives and threading them through every single interaction a brand has with a customer.
Is StoryScaping about more than good, integrated marketing communications?
Over a period of 70 years, agencies have become experts in the "saying" element of marketing communications. SapientNitro is built around the notion of "being, doing, saying" – three ideas that sit within the StoryScape and allow consumers to be surrounded by the story. In this world, every interaction is the message of the brand – physical experiences of it, digital interactions and emotional triggers from communications. When brands "be, do and say", the narrative is authentic and seamless, and the StoryScape is brought to life in a powerful way for consumers.
How does a brand go about creating a StoryScape?
Brand narratives should be never-ending. Consumers deserve more than a 30-second blast of sound and vision, punctuated by a big full stop. Film is powerful and an important part of the story, but we have the means to go deeper – to create a narrative linked by commas that gives consumers a seamless engagement that is defined by a brand's Organising Idea. The Organising Idea has nothing to do with a "big idea" an ad may have; instead, it derives from a brand's purpose and becomes the connective tissue for the entire StoryScape. It influences every aspect of what the brand does to guide recruitment, technology decisions, advertising, social media frameworks and collaborations of all kinds. The Organising Idea allows brands to harness creativity and technology in ways that are appropriate for them and their audiences.
Alan Herrick, president and chief executive, Sapient.
Consumers live in a connected world that is always on. So why do we continue to tell disconnected stories?
At iEX, SapientNitro and the speakers explored the three spaces where brands and consumers connect today – the emotional, the physical and the virtual. Traditional approaches that treat these spaces as separate worlds have led to a distorted view of how people look and behave in each.
StoryScaping ignores distorted views of consumers; instead, it respects that people are complete and allows us to carry a story across the emotional, physical and virtual spaces together.
Consumers are never passive recipients of your message; they are active and willing partners in dialogue with the products, services and messages that make up your brand story. The value of the experience, the StoryScape, is the measure of the perceptions and emotions that result from interactions with your brand.
Steven Levitt
"Data is one of the most powerful mechanisms for telling stories," Steven Levitt, the economist and best-sellingco-author of Freakonomics, said. He challenged businesses to appreciate that, within the mass of data they hold, there are exquisite patterns to unlock and astonishing stories to be told.
Among the stories that Levitt has discovered are that the legalisation of abortion in the US in the 70s led directly to a reduction in crime rates in the 90s and that the payment incentive systems of Japanese sumo wrestlers encouraged cheating.
Levitt shared his crucial elements for making stories believable in this connected world: authenticity, "the one true connector today"; having something of substance to say; and striving to provide an experience people never imagined.
Heston Blumenthal
How do you make mock turtle soup? Or, rather, why even try to make mock turtle soup – a dish so tied into narrative that the clues to its recipe are only to be found in the children's classic Alice's Adventures In Wonderland?
Heston Blumenthal is no ordinary Michelin-starred chef but one who goes to extraordinary lengths to alter the way we appreciate food – moving beyond basic consumption to create a multisensory experience with a strong narrative running through it.
On the creative process behind two of his most famous dishes, Blumenthal described how they activate all five senses to create an emotional StoryScape for the diner. He explained the psychology of flavour perception: "The part of the brain that processes memory is located next to the area that recognises smell. Creating a link between smell and our conception of the past is what makes the olfactory experience so uniquely evocative.
"For marketers, these connections can open up complex and immersive encounters. In the interface between technology, emotion and experience, we've only just begun to scratch the surface."
Dame Vivienne Westwood
Vivienne Westwood uses fashion to empower self-expression – creating clothes that have their own story but that also become a canvas for people to find and tell their own stories.
Charting her journey through fashion from punk rock to her "climate revolution" agenda of today, Westwood referenced high culture, history, propaganda and commercialism: "A story never starts from where we are, but where we come from. We are the past and, the more we know about the past, the more of an idea we have about the present – who we are and the possibility of what we do in the future.
"Integral to my clothes are the stories I put into them, which add to the character of the person wearing them. For everyone who tries them on, it becomes a different story; a way of expressing themselves in a way they never have before."
James Cameron
The director behind two of the highest-grossing films of all time – Titanic and Avatar – explained how disruptive technology enables him to take his work to "the cusp of the possible".
James Cameron reinforced the idea that the connection between story and technology is what drives immersion: "Recognising the cusp of the possible when it occurs is the key to succeeding in story driving technology and technology driving story."
Cameron believes that the fundamentals of storytelling, which connect us in our shared humanity, are a constant: "The fundamental principles of storytelling are never going to change as long as films are made by human beings for other human beings.
"Every single technical film-making skill that I learned is now obsolete, but I'm not. Film-makers take each new thing and evolve it into art, absorb it into the process. What has changed is that we become less inhibited – anything we can imagine, we can create."
See iEX speaker videos at www.campaignlive.co.uk/go/iex2013 and www.youtube.com/use/SapientNitro
Fiona Hanson/AP Images for SapientNitro