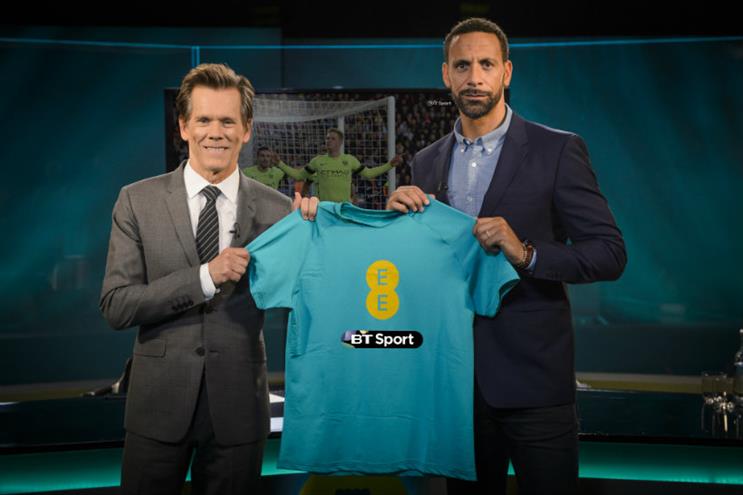 The campaign sees long-running EE spokesman Kevin Bacon co-presenting a sports show with BT Sports star Rio Ferdinand. Pastiching the style of sports broadcasts, the two announce the news that BT Sport will be available for free to EE subscribers for six months.
The spot was created by EE's agency, Saatchi and Saatchi, rather than BT's agency, Abbott Mead Vickers BBDO. And there is a distinctly EE fingerprint on the wider campaign.
What was the marketing thinking behind it?
For Peter Jeavons, EE's head of brand marketing, the campaign was a "perfect marriage" of objectives between the two companies.
BT Sport wanted more subscribers, while EE wanted to show off the speed and reliability of its network.
"We were looking to demonstrate generosity from us and give customers something they would value – hopefully that thing would showcase the quality of the network," Jeavons told Campaign. "BT Sport on the app ticked the box beautifully."
There was, he adds, never any question that it would be a BT-led campaign. Instead, the company approached the campaign as it would any other tie-up, such as its Deezer partnership.
"It didn't matter it was BT, there was never a conversation about what brand it should be coming from, or should it be a mish-mash of brands," Jeavons said. "It was always an EE campaign, talking specifically to EE customers."
Jeavons emphasised too that EE wouldn't be changing the tenor of its marketing any time soon, quashing any suggestion that the brand might drop Kevin Bacon.
"Kevin's coming up to four years in October," said Jeavons. "Obviously we keep track and there's always the danger of [the idea] wearing out – but everything we see is opposite to that, he does an amazing job for us.
"There are no plans to change him."
A strong component of the campaign is digital, and another first for EE was launching its own Snapchat lens, which goes live on 13 August.
"It came down to audience," said Jeavons. "What's nice about these new channels is the creativity and the fact you can have a bit of fun with it.
"We knew filters were big – so why wouldn't we create our own? Channels like that give you a bit more creative licence."