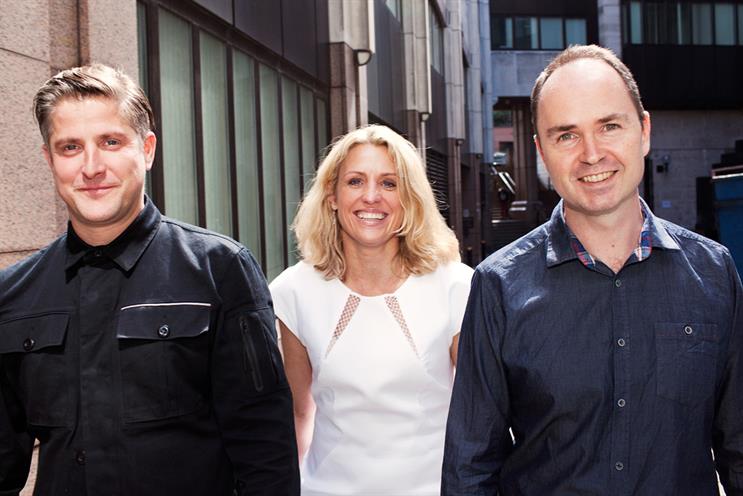 The central desk that dominates the London headquarters of Lucky Generals, located in serviced offices just off Farringdon Road, bears a convenient similarity to one found in a map room. The room's relatively small size also begs an easy, lazy comparison to Napoleon Bonaparte, the diminutive French military genius from whom the agency got its name.
A conspicuous lack of sign­age (other than the agency name scrawled on paper loosely attached to a wall), sparse furniture and fittings (aside from three prominently displayed pairs of Helen Calcraft's alarmingly high-heeled shoes) and a new coffee machine in the corner reveal this to be an agency at the very start of its journey. This apparent modesty belies the laudable ambition and talents of those contained within.
Rumours that Calcraft, Danny Brooke-Taylor and Andy Nairn were plotting a start-up began to emerge when Brooke-Taylor followed Calcraft, who had left Dare in 2011, out of the agency in February last year. When Nairn departed at the end of 2012, it seemed such a tantalising inevitability that it became a regular topic of conversation among people who chatter about such things: the experienced suit, the awarded creative and the clever planner all without work. It just seemed so right – the three have an incredibly tight bond and, as Calcraft acknowledges, there was an element of "unfinished business" about them working together again.
The trio played it with a remarkably straight bat until confirming the rumours were true earlier this year.
Moving on from MCBD
It seems a bit inappropriate to dwell on the Dare period – it didn't appear to be a particularly happy time for any of them as the agency underwent a not entirely painless reconfiguration process to absorb MCBD and create a new en­tity – maybe the "unfinished business" to which Calcraft alludes. As they acknowledge: "The merger didn't work out as any of us would have hoped. We wish the agency well. But it was a long time ago and we have all moved on."
Plus, the three weren't there together that long – it was at MCBD where they made their names and achieved renown, most notably working on accounts such as Hovis, Waitrose, Virgin and the Department of Health. While proud of the agency that once bore Calcraft's name, Lucky Generals is one that they claim will be built slightly differently. She says: "The world has changed. We're incredibly proud of what MCBD achieved. But the client need has changed. MCBD is where we came from, but it's not where we're going."
While MCBD was built on the principles of creating great advertising, Lucky Generals is keen to move into the broader creative space – a conveniently nebulous term, maybe, but one that acknowledges how communications has changed. Brooke-Taylor says that, in the past, the solution to a client problem was virtually predetermined – advertising, particularly on television. Lucky Generals wants to be different.
He says: "If you call yourself a creative company, you have to express yourself beyond traditional advertising." Brooke-Taylor's experience beyond this sphere includes the creation of a Bafta-winning children's TV show and a football training game, as well as a venture into music-video directing. These hint at the alternative solutions Lucky Generals may offer and the breadth of his own talents. But Brooke-Taylor is quick to stress that he is not ruling out traditional channels. "I love doing telly," he says.
Wanted: ambitious clients
Many agencies – particularly start-ups – have positioned themselves in this "creative company" space. So what makes Lucky Generals different? "We'd rather be different than talk about how we be different," Brooke-Taylor says. "Of course there are too many agencies. But, despite loads of talented people, there's not much fun, bravery or money around. We'd like to bring a little of these back."
While their track record is obvious, each start-up inevitably becomes defined by the work that it does and the clients that it attracts or pitches for. Lucky Generals has already decided on the type that it wants. Nairn says: "We want to focus on clients that are on a mission – we don't want clients that want incremental change."
In particular, clients that are in the private equity space.
Calcraft says: "Private equity companies tend to be more audacious. They have huge ambitions here – to look for growth. We've worked with them in the past. A lot of agencies tend to be put off by them because of the aggressive nature of their targets and the accountability they demand. But we actively enjoy that kind of challenge because it plays to our ambition and skills."
There is no doubting the considerable goodwill towards the three – unusual, maybe, that they have made few enemies in their rise to the top. Cilla Snowball, the chairman of Abbott Mead Vickers BBDO, says: "They have the magic combination of brains, principle and flair. They shine in their respective disciplines. They like each other. They will do really well and deserve to."
Tess Alps, the chairman of Thinkbox, adds: "Lots of us are very excited about this launch. We all want to see this perfectly composed team set free to unleash their combined skills on some quality brands that deserve their dedication to creative and effective advertising, whatever the medium."
The ability to succeed is there. But to also borrow from Bonaparte: "Ability is nothing without op­portunity." Few doubt some opportunities to display their considerable collective talents will come along soon.