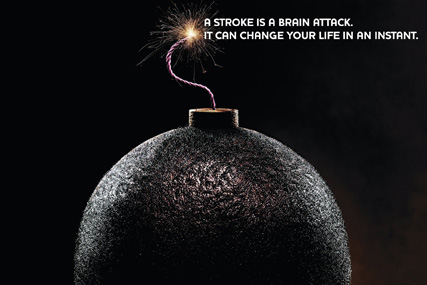 It has issued a pitch tender document to a select number of direct marketing agencies about the review. The contract will run for three years and includes some digital elements.
In the past, a number of agencies – including the fundraising specialists TW Cat and Domain – have worked with the charity, which uses Delaney Lund Knox Warren on its creative account.
Recent advertising activity from the Stroke Association has included a joint campaign with the Department of Health to promote public awareness of strokes.
The campaign targeted those most likely to be in contact with someone at risk of a stroke and encouraged them to become "stroke savers" by dramatising the effects of a stroke on the brain.
A television campaign emphasised the value of intervening and taking immediate emergency action.
The Fast test, created by DLKW, required an assessment of three specific symptoms of stroke and formed the basis of the advertising campaign.
The Stroke Association aims to raise money to fund its research programme, which looks into ways to prevent the condition, as well as how to improve the quality of life for people who have suffered from a stroke.