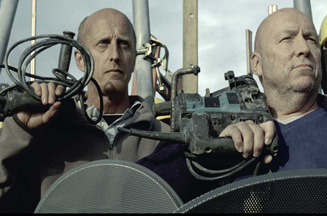 The Scottish & Newcastle (S&N) brand is ditching the 'total refreshment' positioning that it has used for two years. Instead, it will now focus on generating 'a more emotional' connection with consumers.
The campaign celebrates the unsung contribution made by the country's 'grafters'. A TV ad, which breaks on 24 May, shows thousands of workmen on a hillside with their clothes dusty and torn, and their faces
covered in grime. A leader addressing the crowd stresses the importance of their labours.
The ad ends with the workers charging down the hill toward the horizon and the image of a pint of Strongbow. The execution also introduces the strapline 'Bowtime, hard earned'.
The campaign, created by St Luke's, will also run across outdoor and radio.
Strongbow brand manager Fiona Seath said the switch from a functional to an emotional message, was based on plans to develop a long-running campaign.
The 'hard-earned' concept was devised after consumer research by S&N found that 'real grafters' drank the cider after work.
Seath added that current events, such as the banking crisis and the scandal over MPs' expenses would increase the relevance of the ads by tapping into 'a feeling that there are a lot of undeserving people in this country'.
'We know our drinkers look forward to that first pint of the evening, not only because they need to be refreshed, but also because they really feel like they have deserved it,' she said.
In a separate move, S&N has completed a review of its below-the-line roster, following the integration of its business with that of Heineken in the UK. Caspa Marketing, Wax Communications and Space have been added to the roster, which comprises 10 agencies.