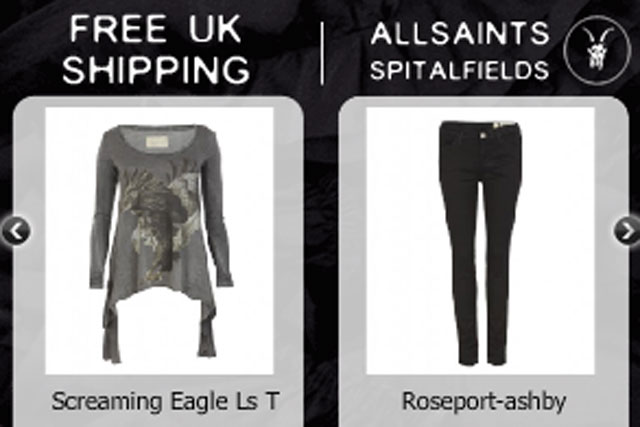 The clothing retailer's pilot testing of the Ad Pad unit, which Struq's founder Sam Barnett claims is the first to give users control within the ad, comes in the same week the new law on cookies took effect.
Struq, which enables advertisers to serve targeted and retargeted ads based on users' browsing history, believes the level of control the unit gives users makes staying opted-in more attractive for them than opting-out.
The unit features the same "i" logo featured in the cross-industry Online Behavioural Advertising (OBA) framework led by IAB Europe, to which Struq is a signatory.
Rolling over the "i" logo prompts the message "edit your ad", which when clicked takes the user to a menu.
Users can confirm or withdraw interest in products featured in the All Saints ad, turning off ads from All Saints, and turning off all Struq ads.
The menu also carries a link through to the IAB's Your Online Choices guide to online behavioural advertising.
Yesterday the new law on e-privacy, requiring companies using most types of cookies to get explicit consent from internet users, came into force.
However, the Government has backed a phased approach giving the industry time to come up with workable technical solutions. The Information Commissioner's Office, which is responsible for enforcing the regime, yesterday announced it would wait a year before doing so.
Struq has around 186 clients, according to Barnett, and typically works for large advertisers in a particular vertical on an exclusive basis.