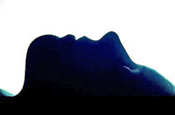 Jamie Childs, a student at the London College of Music and Media, made the ad for the bestselling novel Book of the Dead.
The 20-second ad will run on Five and Five US for at least a week, to advertise the publication of the paperback version.
Childs said: "The credibility of being recognised by experienced professionals means so much to me. It's more important than the money, though I'm excited that the prize will help me complete the feature film I've been writing."
Graham Fink, creative director of M&C Saatchi, said: "The lighting is superb it reminded me a bit of title sequence for Se7en, which on a budget probably a hundred times smaller, is no mean feat."
The competition was run by Little Brown Book Group, Five and HYPtv.

View the winning Book of the Dead competition advert here