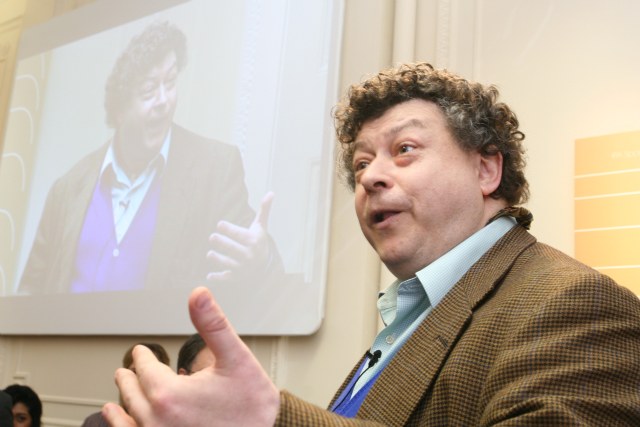 In his New Year's President's Reception at the IPA's offices last night, the advertising ambassador pointed to the recent government announcement about higher education as evidence there was still "plenty of work to be done".
"The whole business, the whole conception, of student loans is a marketing disaster," he told more than 250 media and advertising executives.
"You may decide that it is necessary for students to pay for their own education. You may want to call it a success tax, whereby anyone over the age of 30 earning a certain amount, it adds an extra 2% to their income tax bill.
"However, by calling it a loan and naming the headline amount, what you create is a marketing catastrophe. Because anybody from a poor background is effectively completely intimidated by starting out with that amount of debt."
The industry leader went on to call for "better human understanding to effect and affect the decisions that are taking place both in business and government". He called it proof there was still "a great distance to go before we press the levers of control from what I call the forces of intense left brainery".
Sutherland went on to lament the "inadequate links" between advertising and academia, suggesting the UK industry could learn from Germany's collegiate approach to business initiatives.
He called for British advertising businesses to pool money and resources in an attempt to inject "proper understanding" of common models of human behaviour and into the decision-making process, "so that things are designed with the grain of human nature rather than against it".
The IPA president jokingly noted that most economists pretend human preference doesn't exist, while psychologists were more interested in whether or not you fancied your mum, adding: "All of which will not help you sell toothpaste."

In a 10 minute romp through IPA's achievements over the past 12 months, Sutherland singled out the 2010 celebrations for 30 years of IPA's Effectiveness Awards, alongside representing British adland overseas with a delegation at the Shanghai Expo and hosting a Chinese delegation in London.

Other noteworthy events included IPA's third instalment of its research survey TouchPoints in July, a move Sutherland noted had prompted the US industry to launch its own version, "rather flatteringly".
Looking ahead at 2011, among the things the Ogilvy man chose to highlight were plans for a new IPA awards scheme called the Moas, designed to recognise online media owners.

Noting how the UK's advertising body had managed to increase its reach over the last eight to 10 years, the president said: "Increasingly the IPA has started to introduce conversations in places, and open doors to places, where simply we had no voice before."
Sutherland will hand over the baton of the IPA's presidency to Karmarama's Nicola Mendelsohn in April.