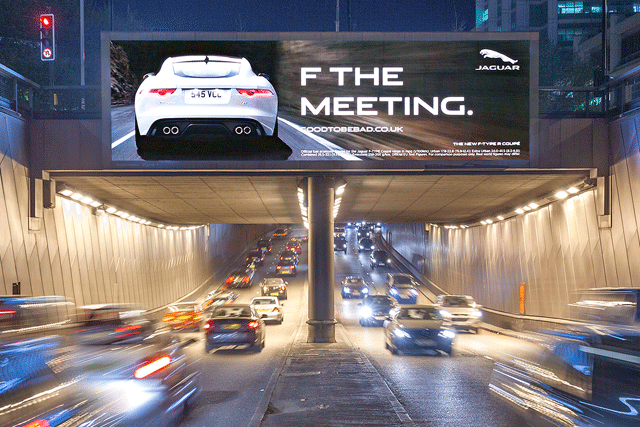 When 100 leaders were asked to think of brand building in London, the channels considered to be "must have media" for making a brand famous were television (74%), and digital out of home (66%).
In addition, 60% of the CEOs and CMOs questioned named specific DOOH sites around London as "must have" when it comes to their brand or company's media plan (see below).
When asked what they perceived to be the greatest benefits of DOOH, two-thirds of respondents said it was the ability to target different audiences at different times of the day.
Jonathan Lewis, managing director at Outdoor Plus, told Media Week: "The results of the Censuswide survey show that CEOs resolutely believe premium digital screens deliver for their company or brand.
"What is particularly heartening for us is that CEOs understand the value of specific premium sites as much as they value the channel overall."
Steve Parker, chief executive of Starcom MediaVest, said: "It's great to see a piece of research which validates what we intuitively know and that reflects the growth in spend, technology and understanding of a platform.
"I believe brand leaders whether CEOs or CMOs recognise the opportunity that premium digital OOH presents them in building brand fame, increasing consumer engagement and delivering timely content experiences.
"They also recognise that there is a real ambition from the OOH industry to invest more in technology and measurement and to naturally innovate more, which reassures further."
The Censuswide study was conducted in July 2014 among 100 CEOs/CMOs in the UK, who advertise to consumers.
If you were to advertise your company on a premium digital screen in London, what would be your preferred locations?
• 52% said Euston Road Underpass (Outdoor Plus)
• 36% said Vauxhall Cross (Outdoor Plus)
• 30% said IMAX, Waterloo (Ocean Outdoor)
• 26% said Cheyne Walk (Outdoor Plus)
• 26% said Cromwell Road (JCDecaux)
• 24% said Chiswick Towers (Storm)
• 23% said A4 Hammersmith Flyover (Ocean Outdoor)
• 21% said Alfa Laval, M4 (Blow Up)
• 19% said Holland Park Roundabout (Ocean Outdoor)
• 18% said Old Street Roundabout (JCDecaux)
• 18% said Piccadilly Circus (Storm)
• 17% said Holborn Eye (Outdoor Plus)
• 16% said A40 Tower (JCDecaux)
• 15% said they do not have a preferred location