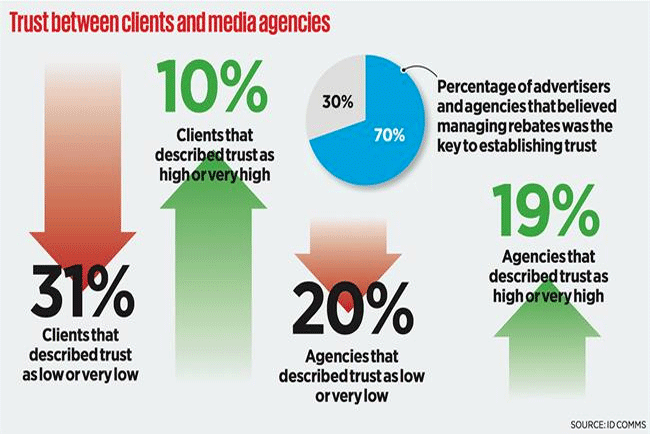 A survey from ID Comms found that 31 per cent of clients described trust between media agencies and advertisers as low or very low, while only 10 per cent rated it as high or very high.
Agencies were more optimistic, with 19 per cent of those surveyed rating trust between themselves and clients as high or very high. Twenty per cent said it was low or very low.
"The lack of transparency into holding company operations and whether agencies are acting as true agents is at the heart of why I see trust in decline," one marketer said. "In addition, programmatic buying and the inherent arbitrage and inability to 'follow the money' create distrust."
The results were more muddled when projecting the future: 39 per cent of agencies bet relations would get worse, while 38 per cent predicted they would get better.
Only 31 per cent of clients thought trust would decline, compared with 38 per cent who expected it to improve.
A rebate scandal broke towards the end of 2015 in the US that led the Association of National Advertisers to hire corporate investigators to find out if agencies were receiving undisclosed kickbacks from media owners when buying ad space.
More than 70 per cent of advertisers and agencies said that managing rebates was the key to establishing trust between agencies and clients.
ID Comms surveyed 140 senior executives from media agencies – representing all six major holding companies – and advertisers from around the world.