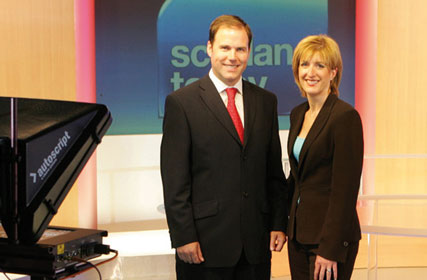 Total revenue, including both continuing and discontinued activities, was £110.2m, down 23.7% year on year, from £144.5m in 2008.
When adjustment is made for the disposal of Virgin Radio in 2008, STV's revenues were down 17% due to the impact of the economic downturn and a lower level of commissions in content.
In a statement, STV said broadcasting revenue was £77.8m in 2009 – down 13% year on year, due to a reduction in national and regional airtime revenues of 10% and 12% respectively.
However, the company said it had experienced a strong start to the year, with national airtime revenue at STV up 13% year on year in quarter one of 2010, against a national TV market which is up 5% year on year.
Rob Woodward, chief executive officer at STV, said: "The media industry has been particularly impacted by the unprecedented economic climate through 2009 and while we are seeing early signs of success, we have transformed our business to ensure that STV remains strong and competitive going forward."
The cinema sales house Pearl & Dean, which STV put up for sale in 2006, saw revenue fall by 10% as a 21% increase in screen numbers was more than offset by the general cinema advertising market decline.
Earlier this week, STV wrote to ITV and is preparing to sue for £5m to £15m for "prejudicial behaviour" due to the airing of programmes such as 'Xtra Factor' – which are spun off from shows in which STV invests such as 'X Factor' – on ITV channels in which STV has no economic interest.
The recent complaint could bring the total of STV's legal claims against ITV to £50m. In November, STV made a claim against ITV for entering into agreements with BT Vision and Virgin Media without obtaining its consent to provide ITV branded services in STV's licence territory.
In turn, ITV is suing STV for £15m in connection with shows STV agreed to part-fund before deciding not to air them. STV has served a counterclaim with an estimated value of up to £16m, relating to the companies' airtime sales agreement.
In today's results, STV said it was confident of its position in respect of the claims against ITV and expected a positive outcome. It said it hoped the appointment of a new chair and chief executive at ITV could lead to a more constructive relationship with ITV.
In reponse ITV issued the following statement today: "We do not believe there is is any legal basis for yet another claim by STV but we would defend any new proceedings vigorously. We continue to pursue our original claim for the £15million to £20million debt to ITV which has accumulated as a result of STV not honouring its contractual obligations to the Network Programme Budget."