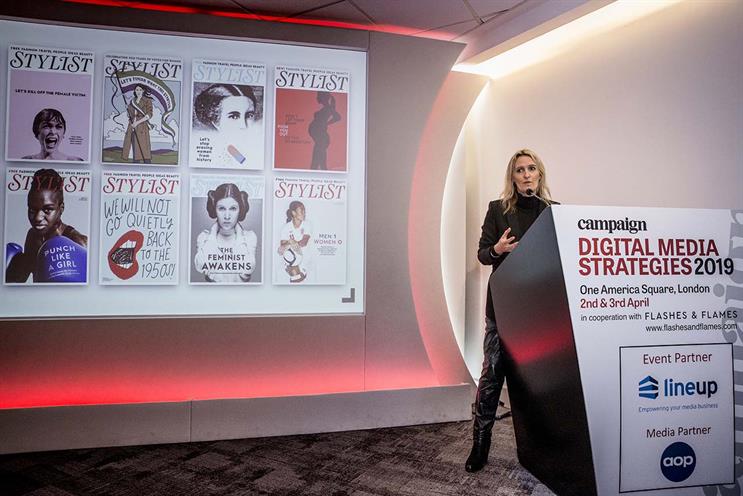 The Stylist Group is launching a women's fitness studio and brand, Stylist Strong, with the first location set to open at the AllBright members' club in Mayfair, central London, next month.
Speaking at Campaign's Digital Media Strategies event this morning, Ella Dolphin, chief executive of The Stylist Group, said the launch was a response to a growing interest in strength training among the brand's female audience and part of a strategy to extend its experience offering into new areas.
The idea, Dolphin explained, emerged by asking: "What's going to be our biggest opportunity in the city with these women? What are the trends that are emerging?"
The rising popularity in strength training is being driven by a number of factors, she said: "One of them was feminism – you don't have to use a small 'f' any more, you can be out there and say it.
"Body diversity is another huge thing which is affecting all of our advertising. This is a big demand from our consumers – that we reflect all body types in our images – and I think this will be one of the biggest changes in how brands talk to women.
"We have women standing up more, doing less step aerobics, wanting to be physically stronger – this imagery of skinny women in the corner eating salads is starting to change and you're seeing these stronger body types coming through."
On top of these wider social changes, Dolphin said, women are increasingly seeing the appeal of "these traditionally male workouts like boxing and kicking the shit out of someone – who wouldn't want to do that?"
Dolphin added that research of Stylist's competitors had revealed that, rather than other women's magazines, one of its closest brands was fitness chain Frame. "They've got two million followers on Instagram, they publish like us and it actually was the closest thing to where Stylist was going," she said.
Stylist Strong will feature a tailored training programme created by Nike's global master trainer, Joslyn Thompson Rule.
Thompson Rule said: "I spend a lot of my time educating women on the importance of strength training for every aspect of their lives. But the educational piece can still be limited in terms of delivery and there is still a little stigma around lifting weights.
"I am both honoured and incredibly excited to be part of Stylist Strong. They have given me a platform to spread my passion – getting women unapologetically stronger. Women's training is undergoing a refreshing and much-needed reboot on every level. This is just the beginning."