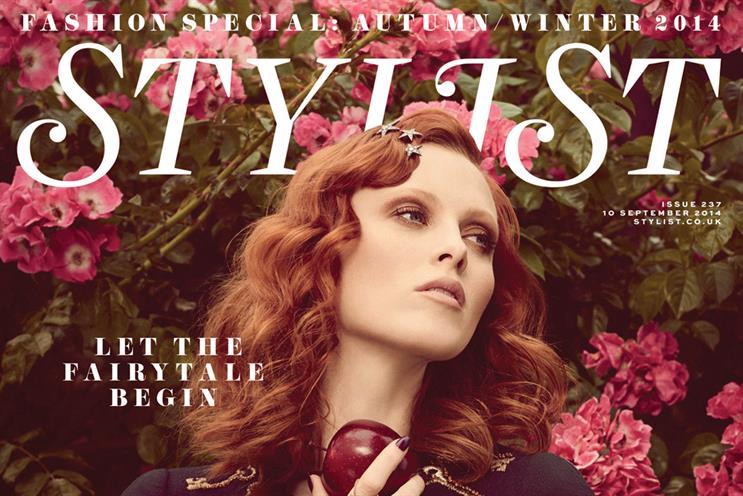 The special edition of Stylist runs to 236 pages and is the first to be perfect bound (glued spine) as opposed to stapled.
The fashion issue features model Karen Elson on its cover and is printed on glossy paper stock.
Advertisers include the Italian brand retailer DSquared as an inside front cover spread and the outside back is Maxmara, another Italian company.
The Stylist edition also hosts a roster of international advertisers, including Dolce & Gabbana, Marina Rinaldi, Calvin Klein, Longchamp, Comptoir des Contonniers, Kate Spade and G Star.
From the UK, advertisers in this week's Stylist include Jaeger, Russell & Bromley and Jigsaw, as well as many high street stores such as John Lewis and Marks & Spencers. There is also a bound-in (stitched-in supplement) for New Look and a tip-on (fragrance sachet) for Tresemme.
Major beauty brands with a notable presence in the magazine include The Lauder Group and Coty, while Burberry showcases its new fragrance.
Glenda Marchant, publishing director for group Shortlist Media, told Media Week: "This is a real milestone for Stylist. Once upon a time high-end brands had been nervous about advertising in a free magazine; but it's been proved time and time again that Stylist can provide a magazine environment that is just as strong as any paid for title.
"Stylist can give them the numbers they need to sell their product and increasingly these advertisers are moving from the fashion specials into the regular editions as well."
Stylist's first glossy fashion special launched in February 2010 and was just 64 pages.
The magazine launched its first tablet edition in February 2014, and this will be followed by the imminent launch of Stylist Arabia.
Marchant added: "Anyone that thought Stylist would never crack the fashion industry has been proved wrong once and for all. This edition will provide the spring board to take the title to even greater heights."