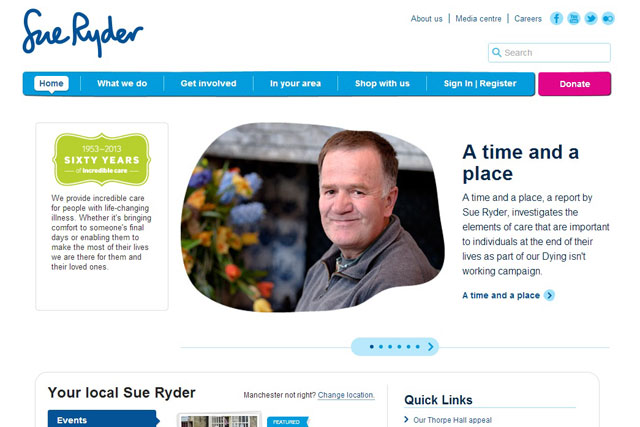 The charity provides medical care and support to 16,400 people with serious illnesses each year. It aims to boost its fundraising revenue through digital channels, to complement current revenue from its 400 shops.
Pitches took place in July and Code Computerlove will start work immediately. The agency will initially focus on website optimisation and user experience on Sue Ryder's site, which was rebuilt last year by KMP Digitata.
Code Computerlove will aim to improve the user journey on the site to increase donations, registration to events and volunteering.
The agency also plans to make greater use of the digital marketing tools on the Sitecore platform on which the website is created, to embed social media onto the site and deliver greater personalisation.
Kezia Richmond, website manager at Sue Ryder, said: "Having invested in a new website and CMS platform, we're now keen to really maximise our digital capabilities for raising money to improve health and social care.
"By working with Code – an agency with an unrivalled track record in the charity sector – we're confident that we can use digital marketing techniques and technologies to get closer to our supporters and potential audiences and encourage more people to support us, get involved with our events and become volunteers."
Sue Ryder was founded in 1953 and is a national charity providing health and social care in seven hospices and six residential care centres, as well as community-based services and in the home.