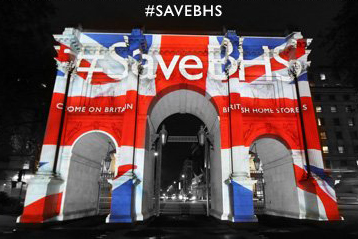 Yousuf Bhailok, a Preston-based property millionaire, was one of many suitors who submitted first-round bid yesterday to BHS' administrators, Duff & Phelps.
The 59-year-old has written to the government to secure a loan guarantee to support the annual operating costs of running BHS, which are thought to be £80m.
#SaveBHS pic.twitter.com/6yXc5s1YRM

— BHS UK (@BHS_UK) May 10, 2016
Other interested parties are thought to include Sports Direct, the retailer owned by billionaire Mike Ashley, Ikea and B&M, according to The Daily Telegraph.
Yesterday BHS launched a marketing campaign called #SaveBHS which lit up iconic London landmarks with the union flag. The images were projected the store's headquarters in Marylebone, as well as Marble Arch and Wellington Arch.
The campaign is led by BHS' marketing and creative director, Tony Holdway, who said: "we do not intend to go down without a fight."