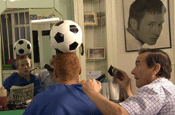 The digital campaign, Movie Boy, launches at 6am on Saturday to support The Sun's free week-long DVD promotion. A countdown clock leading up to the challenge started yesterday.

The film addict will be locked in a room for one week to see how many hours, out of 156 hours of film, he can watch.

Viewers can watch him live online, chat with other viewers, vote on which films he will watch, and see his thoughts via a status text box. He will also have a Twitter and Facebook status.

Viewers will win prizes for guessing the length of time he will watch DVDs on a daily basis and for the whole week.

The Movie Boy will have a button on his armchair, which pauses the clock each time he wants to leave to go to the toilet or go to bed.

Watch the campaign on www.movieboy.co.uk.