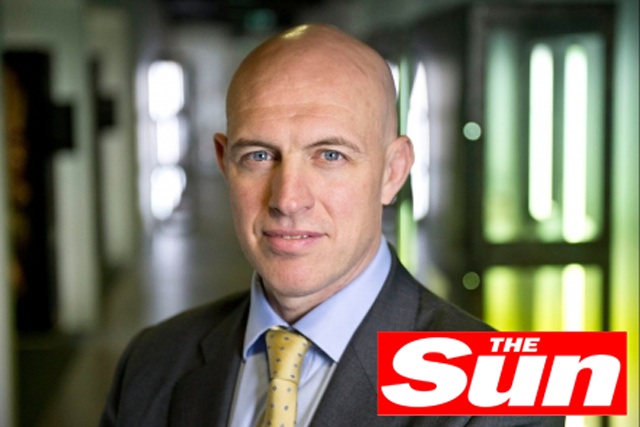 The Sun's special World Cup Pride edition tomorrow (12 June) will be delivered free to every home address in England – circa 22 million households – reaching some 48.3 million adults.

The special 24 page edition to mark the beginning of the football tournament in Brazil has been part funded by stalwart Sun advertisers Sky, Aldi, Coke, BT, Mars and Domino's.
The initiative is said to be the brain child of The Sun's marketing director, David Robinson, and aims to be a showcase for how important newspapers are in capturing the heads and hearts of a nation, especially during times of shared national consciousness.
David Dinsmore, editor of The Sun, told Media Week: "Every household in England will receive a free copy of The Sun delivered to their home. This is the greatest print initiative of recent times.
"You need to get excited by things and The Sun likes to get excited about things. The World Cup is a brilliant event and this kind of 'event publishing' is something that floats the boat of people in my office, and I think it will do so throughout the country."
The special edition features regular Sun columnists writing about what England means to them, a feature on England's biggest fan as well as comedian James Corden's message to England manager Roy Hodgson.
Dinsmore is hoping the nationwide door drop will also prove to be a strong sampling exercise for people who have never read The Sun before. "I think there are a lot of preconceptions and misconceptions about the The Sun," he said.
"Although it is the most loved newspaper in the country, there are a number of people who are prejudiced against it. I think they will see some examples of Sun journalism that will make them want to find out more about it on an ongoing basis."
However, the promotion across England will exclude distribution to households in Liverpool, where animosity towards the newspaper remains since the way it initially reported the 1989 Hillsborough football disaster.
Page 3's topless models covered up
Not everything about the content of tomorrow's Sun will be typical fare, with Dinsmore admitting its controversial use of topless models on page three have been dropped for the day.

"We have a poll to find England's Rose" on 'Page 3'. It is not topless, because we understand that's not to everyone's taste. For something that we are giving free rather than it being a purchased item, it makes sense for that not to be topless."

However, the editor says the move should not be seen as a step towards removing 'Page 3' girls from the UK's largest selling newspaper altogether.
Noting the tabloid remains the biggest daily print product in the country, with a circulation still in excess of 2 million, he said: "This [debate over Page 3] is one for the readers to decide, not for those who do not buy the paper. The people who are against it, I find, almost exclusively, are people who do not buy the paper."
Paid for is the only sustainable model
Dinsmore's message to advertisers about the positioning of The Sun as a paid for only product, both online and off, following the erection of a paywall last August, is equally clear: "There is no where else you can buy media that has our kind of paid for reach every day.
"I think we have a long future in print ahead of us. But there is a massive revolution happening in digital. It's our job to marry those two things up. [The Sun] has to be valued across every platform, hence we are paid for across every platform.

"I think the days of giving your stuff away for no return has to come to an end. The consumer and the advertiser will end up appreciating that."
In a nod to the ever growing numbers, and geograpical reach, of unique users being accrued from the free websites operated by newsbrand rivals The Guardian and Daily Mail, he said: "I can stand at the end of the street and hand out £10 notes. I'd be hugely popular but I wouldn't be doing it for very long."
The Sun is not the first European newspaper to embark on a nationwide door drop to harness the mood of the nation, Bild in Germany did a similar move a couple of years to celebrate its 60th birthday.