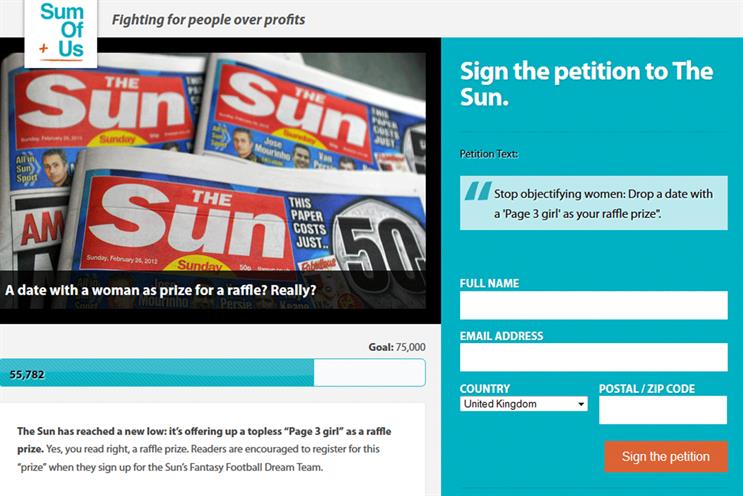 The News UK tabloid sent out an email that said players of its fantasy football competition who set up mini leagues with more than 10 people would be entered into a prize draw for a date with a Page 3 girl.
The email continued: "We might even let you pick which one, so feel free to start your research now ... Don't listen to your girlfriend when she says size doesn't matter. The bigger your mini league is, the more prizes you can get your mitts on."
The Advertising Standards Authority received 1,036 complaints, following a campaign led by the consumer campaign site SumOfUS.org.
The complainants argued the offer of a date with a Page 3 girl was offensive and socially irresponsible because it was sexist, objectified women and because it offered the date as an incentive to gamble.
Although the ASA accepted The Sun's assertion that it had both male and female celebrities as chairmen of Dream Team mini leagues and that Page 3 as a brand was associated with the paper, it noted that the celebrities were not simply featured in the promotional material but instead a Page 3 girl was offered as a prize.
The ASA ruled that the offer of a date with a woman as a reward for success "demeaning to women and objectified those offered as prizes".
The authority added that the wording exaggerated the impression that the women were "simply objects" to be selected at the whim and enjoyment of the winner, rather than people with a say in the matter.
As the primary reason people sign up to fantasy football would be because they are interested in sport, the ASA ruled they would not expect a date with a Page 3 girl as a prize and the fact they were, was likely to be offensive to some recipients.
The ASA said because the email presented the women as objects to be won it was sexist, offensive and socially irresponsible.
The ad must not appear again in its current form and the ASA warned The Sun to make sure its ads do not contain anything that is socially irresponsible or likely to cause serious or widespread offence.