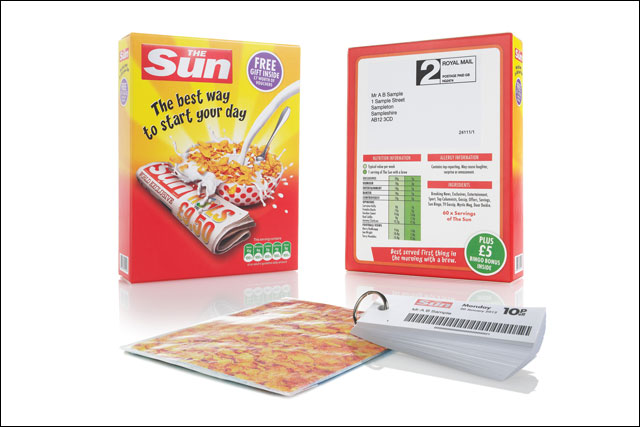 The Sun's discount vouchers pack is an acquisition tool, encouraging competitor publication readers to trial the paper in the hope that they will form a habit and become loyal readers.
Copywriter Vicki Murfitt and art director Paul Crump created The Sun's very own cereal pack, positioning the paper as the best way to start your day.
The pack explains the ingredients of The Sun and its nutritional values. Inside the box is a plastic cereal bag which, reminiscent of the days of free gifts, contains a key ring holding 10 weeks' worth of discount vouchers for The Sun.
Steve Aldridge, Partners Andrews Aldridge's creative partner and chairman, said: "This wonderfully fun and tactile execution is designed to engage those who don't currently read The Sun. We hope that the handy voucher key ring will lead to higher redemption and, as a result, loyal readers."
David Robinson, head of customer engagement at News International, said: "Partners' challenge was to turn what is essentially a very standardised mailing into something that would jump out at a recipient, make them smile and, in-turn, increase their likelihood of engagement and use. We are very excited about this creative and eagerly await the results."
Follow Daniel Farey-Jones on Twitter @danfareyjones