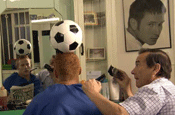 The AAR, which is handling the process, has contacted agencies ahead of drawing up a shortlist that will be invited for credentials meetings in the coming weeks.

Although the £4.5 million advertising account for The Sun's sister title, the News of the World, which is also handled by Euro RSCG, is not currently included in the review, the winning agency could be appointed to handle advertising for both papers.

Euro RSCG was appointed to work on The Sun and the News of the World, which form the News Group Newspapers division of News International, in June 2005, following a pitch against Publicis and Saatchi & Saatchi.

The decision put an end to TBWA\London's ten-year tenure on the account, during which time it produced the iconic "We love it" and "Big on a Sunday" straplines for The Sun and the News of the World respectively.

In September last year, The Sun slashed its cover price in London and the South-East to 20p from 35p in a bid to keep its circulation above the three million mark.

Despite slipping below this level in December last year, the paper has since posted five consecutive months of year-on-year circulation increases, with a rise of 0.81 per cent to 3,089,321 in June, and has increased its cover price in the region back up to 30p.

The review comes a week after Euro RSCG launched a new TV idents campaign to ?air during Sky's Football Tonight programme, promoting its Dream Team fantasy football competition.

Roland Agambar, the sales and marketing director of News Group Newspapers, said: "Euro RSCG has done a great job for us over the past three years and helped us sustain our position as the brand leader in both the daily and Sunday markets.

"But as a daily and constantly evolving business, it is appropriate that we review our agency roster accordingly."