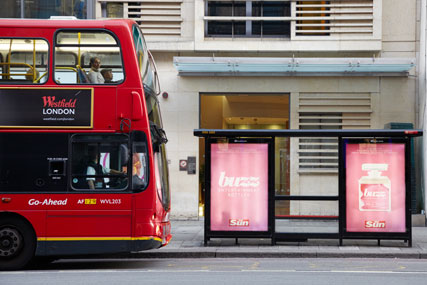 The scent is a collaboration between The Sun and perfumer Roja Dove of Harrods, where it will be sold from today priced £59 per 50ml.
Two scented six-sheet posters are being placed at a bus or "Buzz" stop opposite the luxury department store in Knightsbridge today to inform the public of the product.
The ads were created by News International's internal creative department and placed by Mindshare.
The scent, which "seeks to bottle the concept of pure entertainment", is described as being inspired by the heady blend of: the effortless style of Sarah-Jessica Parker; the charisma of Sophia Loren; the intoxicating sass of Beyonce Knowles; and the girl-next-door charm of Cheryl Cole.
A spokeswoman for News International described Buzz as a blend of "bright, breezy citrus notes and bergamot, leading to a heart of jasmine and ylang ylang before revealing a soft layering base of vanilla and sandalwood.
"Each ingredient combines to create feelings of premieres, debuts and red carpet moments."
Roja Dove said: "Collaborating with The Sun is an unusual step for me. In my work I create bespoke one-off fragrances for individual clients so I was surprised when I was asked to create a scent for a newspaper."

In June pay TV broadcaster BSkyB, which is partly owned by The Sun's parent company News Corp, promoted its HD offering by launching a limited edition fragrance inspired by the scents of football and South Africa.

The Sky stunt, fronted by former pop star Rachel Stevens and created by Sky's in house marketing team in conjunction with its PR company Cake Group, was not supported by any advertising.