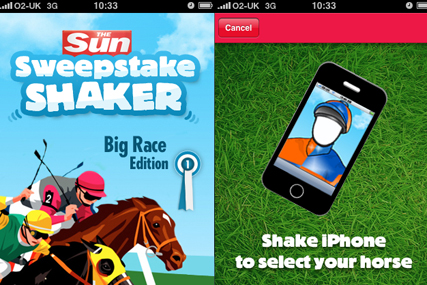 The free app, created by WCRS, helps users to run a sweepstake around the event in their office, with each entrant assigned a horse running in the historic Aintree race.
Each person is required to shake the iPhone to choose their horse and have their picture taken in the relevant jockey silks.
The app then processes all the details and produces a specially customised sweepstake poster that can be printed out and displayed.
In the run-up to the race, the app will also be updated with tips from The Sun columnists, including Ally Ross, Jon Gaunt and the newspaper's racing expert Claude Duvall.
A range of editorial features in the newspaper will help to raise awareness of the app, which is the first not directly related to one of The Sun's properties.
The publication plans to update the Sweepstake Shaker with other sporting events once the Grand National has finished, including the Fifa World Cup and Wimbledon tennis tournament.
Last month, the Daily Mirror signed a three-year commercial tie-up to be the official media partner of the Grand National.