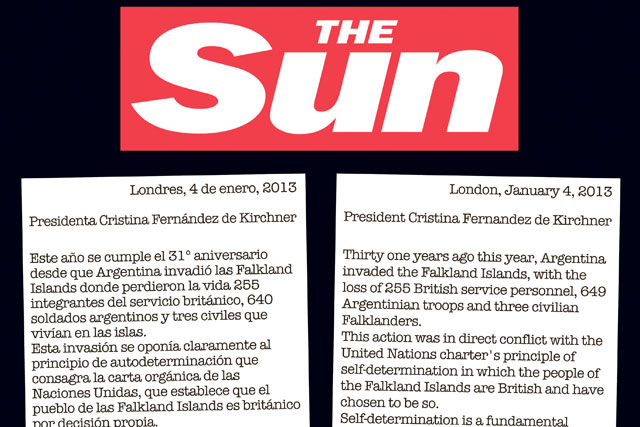 In the ad The Sun disputes de Kirchner's claim that Argentina was "stripped" of the Falkland Islands on 3 January 180 years ago and said "no civilian population was ever expelled".

Moreover, the Sun's ad, which includes the text in Spanish and English, said: "British Sovereignty over the Falkland Islands dates back to 1765, before the Republic of Argentina even existed."

The Sun ad ended with the words: "In the name of our millions of readers, and to put it another way: 'Hands Off!'"

The ad was designed by The Sun's in-house creative department and booked on page 5 of the Buenos Aires Herald, which is understood to be read by 50,000 people a day, by The Sun directly.




Yesterday in the ad in UK national newspapers The Guardian and The Independent de Kirchner said Argentina was forcibly stripped of what it calls the Malvinas Islands in a "blatant exercise of 19th Century colonialism" and called for the UK to return the territories.

In response to the Argentinian ad a spokesman for the Foreign and Commonwealth Office said: "The people of the Falklands are British and have chosen to be so. They remain free to choose their own futures, both politically and economically, and have a right to self-determination."

Tensions between the two countries on the issue of the Falkland Islands have mounted over the last 12 months and de Kirchner even summoned the British ambassador just before Christmas.

The British ambassador to Argentina was called to see the president after the Coalition Government renamed a part of a territory in Antarctica that Argentina has also claimed for its own, Queen Elizabeth Land.

In May 2012 the Buenos Aires office of WPP's Y&R network was criticised for making an ad showing an Argentinian hockey player training on the Falkland Islands, ahead of the London 2012 Olympic Games.

WPP chief Martin Sorrell condemned the ad and the Y&R network made a contribution to war veterans' charities in an attempt to compensate for the controversial spot, after it prompted a diplomatic row.