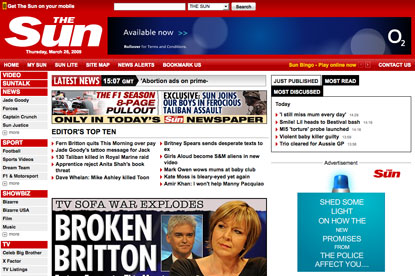 In February's ABCe figures, the News International-owned website achieved 27.3 million unique users, up almost 25 per cent on January and two million more than guardian.co.uk.

It is the first time since May last year that the site, which in February posted a 15 per cent fall in unique users compared with January, has not occupied the top slot.

It was also overtaken by The Telegraph, which, along with the Mirror Group Digital, were the only other sites to post month-on-month increases in unique users. These were 1.02 per cent and 5.12 per cent respectively.

Following guardian.co.uk, The Independent saw the next biggest drop with an 8.4 per cent fall in unique users, followed by MailOnline with -4.53 per cent and Times Online with -3.9 per cent.

Year-on-year growth saw every paper putting on double-digital increases, apart from The Independent, The Sun and The Telegraph, which posted three-figure increases of 103.51 per cent, 118.15 per cent and 113.04 respectively.