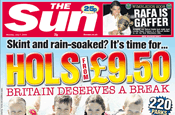 A £50 million marketing budget has been allocated to support the newspaper, with adspend likely to increase significantly from the current £12 million across The Sun and News of the World.

Roland Agambar, the News Group Newspapers sales and marketing director, said the review, through the AAR, aims to find an advertising approach that will fill The Sun's eight million readers with "an optimistic view of life".

Agambar said: "It's not about repositioning The Sun, it's about getting the right communications in place - not advertising around £9.50 holidays, but communicating to Britain that this is a fantastic product."

He added that the brief for the ad agencies is to reflect that The Sun and News of the World capture "what modern Britain thinks".