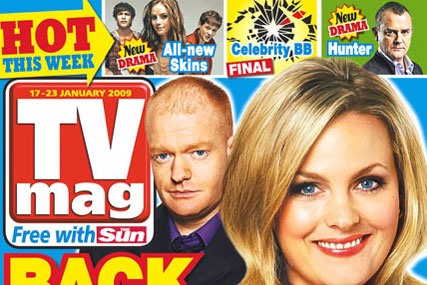 The magazine, which does not yet have a name, will launch later in the year.
NI has been promoting a more upmarket magazine proposition to media agencies and is aiming to attract higher-profile brand advertisers, rather than focusing on direct response ads.
The new publication will be launched by Jane Johnson, the Sun's Saturday editor and associate editor, who launched the News of the World's women's magazine Fabulous in 2008. Johnson also launched the weekly celebrity glossy Closer in 2002.
The new TV magazine will include lifestyle features and a revamped TV listings section. It is also understood that it will have a celebrity cover in the style of Fabulous.
Fabulous, which replaced the long-standing NI supplement Sunday, was launched with the aim of competing in the celebrity weekly market, and was touted as "Grazia for the red-tops".
The supplement includes celebrity covers and interviews, real-life reports, high-street fashion, beauty, lifestyle and TV content.
The Sun magazines editor, Jonathan Worsnop, launched TV Mag in 1998. He is now leaving The Sun to pursue new challenges.