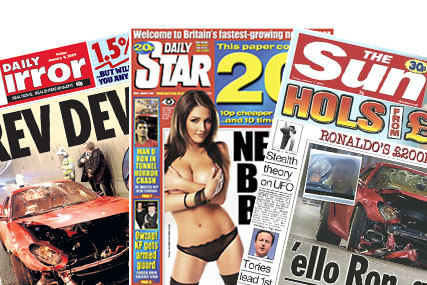 Among the mainstream tabloids, The Sun posted the biggest month-on-month drop in circulation – down 4.81%, to 2,899,310 copies. The three million sales barrier is widely viewed as key for The Sun in its sell to agencies and clients.

The Daily Star was the only weekday newspaper to increase circulation month on month. Continuing to benefit from its reduced cover price - the paper cut its cover price from 35p to 20p on 5 November - the Richard Desmond-owned title upped circulation by 1.61% between November and December, to average 725,671 copies.

Year-on-year, the Daily Mirror suffered the biggest drop in circulation among the tabloids, shedding 9.85% of circulation, to 1,346,916 copies.

While on a year-on-year basis The Independent suffered the biggest circulation drop among the quality titles – down 12.33% to 200,242 copies – the title suffered the smallest month-on-month circulation decline of all qualities, of just 0.43%.

The Scotland-centric titles continue to face a challenging time, with both The Herald (down 9.37%) and The Scotsman (down 9.61%) suffering the next biggest year-on-year circulation falls among the quality titles.

With the exception of the Financial Times, The Times managed to outperform its quality rivals, The Independent, The Guardian and The Daily Telegraph, year on year. It lost 2.33% of its circulation year on year, to 600,962 copies, while The Guardian shed 2.95% year on year and The Daily Telegraph lost 5.64% of circulation year on year.