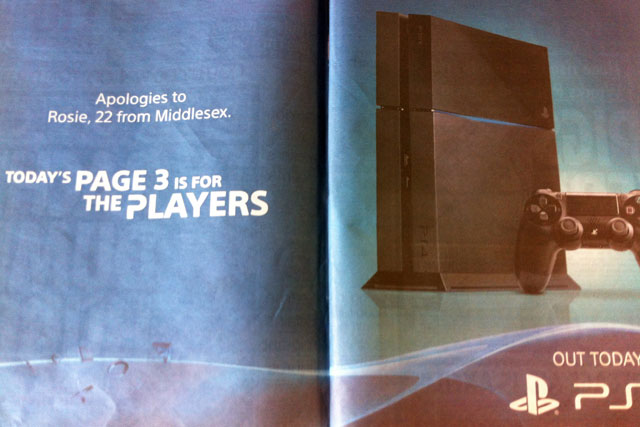 The ad marks the first time an advertiser has taken over page three, where the paper's trademark topless girl is normally positioned. Rosie, aged 22, appears on the next double-page spread.
The PlayStation ad for the new PlayStation 4 console, which launches today, reads: "Apologies to Rosie, 22, from Middlesex. Today's page 3 is for the players."
David Wilcox, group sales manager at The Sun said: "The tongue-in-cheek creative approach of this campaign aligns perfectly with The Sun's tone of voice, so it's going to resonate well with our readers."
In recent years, The Sun's semi-naked female has appeared on various pages in the paper, although the feature often still appears on page three.
Media planning and buying for the ad was by Manning Gottlieb OMD, while creative was by its fellow OMD agency Drum.
The PlayStation 4 console launched today in the UK and earlier this month in the US. Events at the time of the US launch included giant PlayStation symbols decorating London's Oxo Tower landmark, a stunt in which MGOMD was also involved.
Emma Cranston, investment account director at MGOMD, said: "The objective for the PS4 launch campaign was not only to create impact, but to also be a bit irreverent. This has been consistent throughout the launch communications, such as changing the Oxo Tower symbols.
"PlayStation, Drum and Manning Gottlieb OMD worked closely with The Sun's editorial to crack the creative, including name-checking Rosie 22 from Middlesex, who we bumped to page five."
She added: "We have been talking to The Sun about taking over the IFC DPS [inside front cover double-page spread] for a while, but have been waiting for the right creative to execute it. As soon as the launch date from the PlayStation 4 was announced back in August, we put the options in with all the titles to ensure we weren't caught off guard by our competitors."
Murray Pannell, marketing director at PlayStation UK, said: 'This is just one moment on the media plan, but it demonstrates how the campaign has come together with great partnership between agencies and all the different departments internally."