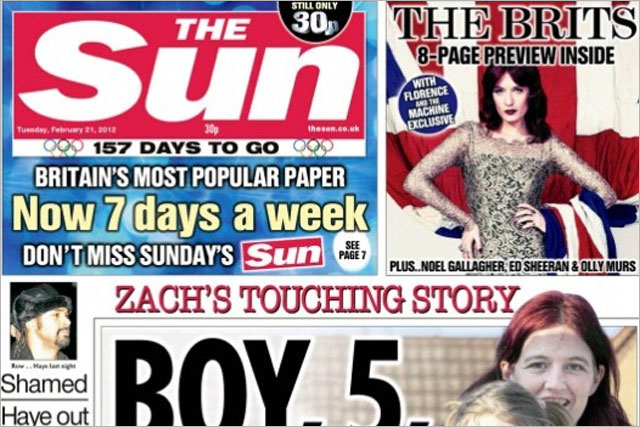 This Sunday's launch of The Sun on Sunday is set to kick-start the biggest battle in the Sunday tabloid market for years.
Tonight's ad for the The Sun on Sunday will mark the first part of a major above-the-line campaign by News International, as it seeks to emulate the 2.6 million circulation of the defunct News of the World.
Today's issue of The Sun contains an eight-page supplement dedicated to the Brits, which will be screened live tonight, hosted by comedian James Corden.
News International is thought to have hurriedly booked the advertising spot for this evening.
The Sun on Sunday will hit newsstands with the same masthead as the daily title.
Sources have also disclosed to Campaign that Northern & Shell, publisher of The Daily Star Sunday; Trinity Mirror, publisher of The People and The Sunday Mirror, and Daily Mail & General Trust (DMGT), publisher of the Mail on Sunday, have all booked TV ads this Friday and Saturday.
The People and the Sunday Mirror are also expected to cut their cover prices this Sunday.
Follow John Reynolds on Twitter @johnreynolds10