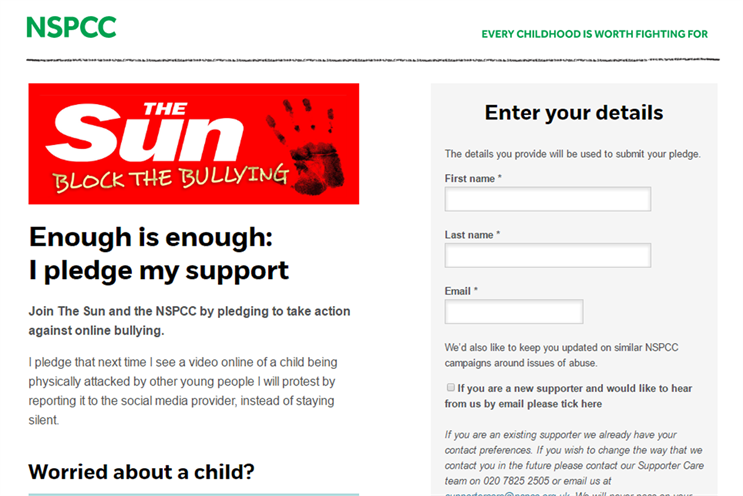 The drive is a response to what the two partners said was a trend for "sickening" videos being shared online and potentially viewed hundreds of thousands of times.
The campaign is calling on all social media companies to block videos of children being physically bullied and abused by other young people as soon as they come to their attention, and asking the public to pledge to report videos when they encounter them.
The Sun said it had been inundated with videos sent to them by readers, including the parents of children who have been targeted. The NSPCC's Childline, meanwhile, counsels more young people about physical bullying than any other kind; 4,723 counselling sessions took place in 2015.
Peter Wanless, chief executive of the NSPCC, said: "We need to eliminate all videos of children being physically attacked by other young people, and we are challenging social media companies to play their part, as well as the public to pledge their support and no longer stay silent.
"Enabling videos of abuse to be shared and circulated may seem like a good way to raise awareness but it can have a very damaging effect, forcing the young person to relive their humiliating and terrifying experience repeatedly.
"Years ago a child could escape the bullying when they left the playground and get some respite in the safety of their home, now the 24/7 nature of the internet means that a child can be targeted around the clock."
The charity has called for the government to put in place a set of minimum standards to protect children online, backed by a regulator, which all internet companies operating in the UK would be required to sign up to.
The Sun's digital editor Keith Poole said: "We have been shocked at the number of videos we receive depicting schoolchildren being attacked, often with appalling viciousness. We are therefore pleased to be working with the NSPCC to tell readers what to do if they come across these videos online and how parents should help their children if they are subject to such bullying.
"We are also keen to inform our younger readers and their parents of the heartbreaking consequences of being involved in this new form of cyber-bullying. The Sun is happy to be leading the way by committing not to run such videos in the future and we hope others, including social media companies, follow our lead and remove these videos as soon as they are flagged."