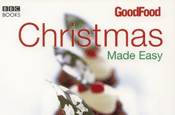 The promotion, which launches this weekend, features the BBC Good Food: Christmas Made Easy book worth £7.99. It can be obtained for free by readers sending an SAE.

Additionally if a consumer purchases one of three other books featured in the promotion they will receive the BBC Good Food book without the need for an SAE. The promotion was negotiated by Cocktail Marketing.

There are a number of other promotions running in the national press this weekend. Tomorrow's Daily Telegraph is giving away free roses and the Sunday Express is giving away a free Dolly Parton and Kenny Rodgers CD.