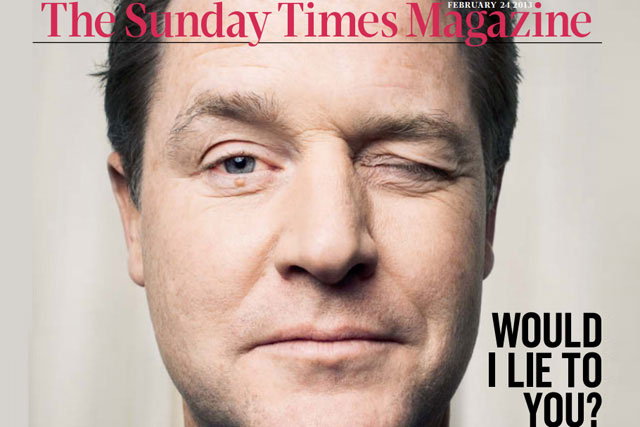 Lord Rennard, The Lib Dem's former chief executive, is accused of several acts of sexual impropriety in incidents dating back to 2003.
The Sunday Times ran a long Q&A piece with Clegg, featuring the coverline "Would I lie to you?", where figures from politics, business, entertainment and sport put questions to the Lib Dem leader.
Among those who submitted questions were Jeremy Clarkson, broadcaster Jenni Murray, comedian Arthur Smith and Martin Sorrell. The WPP chief executive asked why the government didn't have a "growth strategy that embraces education, taxation, technology, infrastructure and immigration?" He said the electorate needed a vision.
The Lib Dems no doubt saw the interview, which ran over eight pages including the cover and would have been completed sometime ago, for what it was - a great PR opportunity as the party went into the Eastleigh by-election sparked by the resignation of Chris Huhne.
However, yesterday it only sought to focus yet more attention on Clegg who issued a statement clarifying what he knew and did not know about the allegations.
In a statement issued yesterday evening, Clegg said he was made aware as long ago as 2008 of "indirect and non-specific concerns" about inappropriate behaviour towards women by the peer.
He said that his office had acted to deal with the allegations, which have been denied by Lord Rennard.
The allegation emerged towards the end of last week in reports from Channel 4 News, which ran claims by four women of sexual impropriety by Lord Rennard.
However, some have questioned whether Clegg had known of the claims years ago. At the time of the story breaking the Lib Dem leader had been in holiday in Spain.
In his statement Clegg, said: "I totally reject the insidious suggestion that my office or I are responsible in any way for a deliberate cover-up... in the meantime, I will not stand by and allow my party to be subject to a show trial of innuendo, half-truths and slurs."