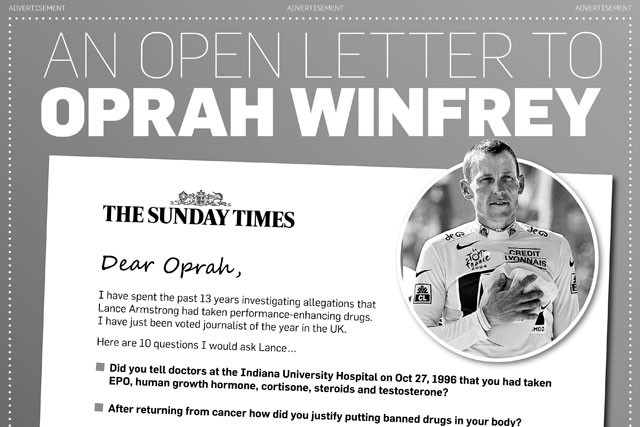 The letter, published in the Chicago Tribune, the daily newspaper circulating in the city where the Oprah Winfrey Network is based, is written and signed by David Walsh, chief sports writer at The Sunday Times and a long-time critic of Armstrong.
The ad was put together by The Sunday Times in-house editorial team.
Walsh has recently won the UK Journalist of the Year accolade for his 13-year investigation into the cyclist, who was stripped of his seven Tour de France titles by the International Cycling Union last year following doping allegations.
It is thought that Armstrong is going to make a partial confession on the show, but Walsh's questions focus on how the cyclist justified using drugs after suffering from cancer and why he allegedly bullied other cyclists who refused to take drugs.
Armstrong sued The Sunday Times in 2004 for libel after they printed allegations of his doping. The case was settled out of court and The Sunday Times was forced to print an apology.
The letter ends: "PS: The Sunday Times is seeking to recover about $1.5m (£929,369) it claims he got by fraud. He used Britain's draconian libel laws against us."
Armstrong was dropped by sponsors Nike and brewing giant AB InBev after a damning report was published by US anti-doping authority Usada in October.
The Sunday Times is published by News International, News Corporation's UK newspaper arm.
It is the second ad News International has taken out in a foreign newspaper this month. Sister tabloid The Sun responded to an ad from the Argentinean president, through an ad in a Buenos Aires newspaper.