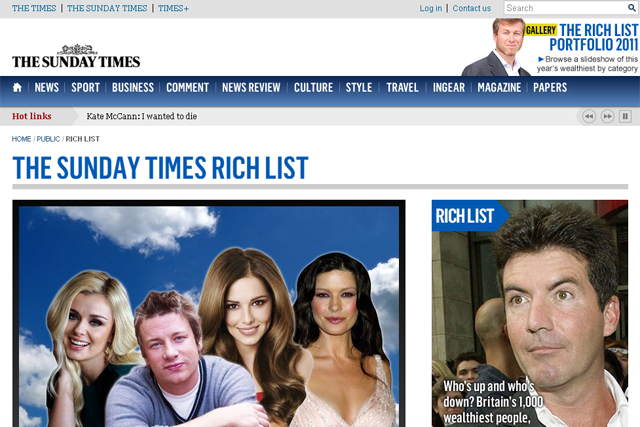 The Barclays brothers, owners of Telegraph Media Group, feature at number 26 on this year's Rich List with a £2.2bn fortune spread around hotels, property and retailing businesses.
Viscount Cowdray and the Pearson family are the second richest media millionaires at number 66 from their 10 per cent stake in the Pearson group, publisher of the Financial Times, along with land assets.
Richard Desmond, the publishing and television magnate, lands on the list at number 76 with a £950m fortune.
While his profits fell from £41.6m to £8.9m, the former ad salesman pulled fortunes back around when he added Channel 5 to Express Newspapers and his Northern & Shell magazine portfolio last year. His fortune is also made up of assets in property.
Elizabeth Murdoch and her PR husband Matthew Freud feature at 290 with £251m, up £61m from 2010. Freud recently bought back his PR agency from Publicis while Murdoch's television production company, Shine, was bought by her father's company News Corporation.
The advertising recovery has been good to Sir Martin Sorrell, chief executive of WPP, helping his wealth grow by £23m from last year to £148m and putting him at number 488. The Rich List values Sorrell's stake in WPP at £138m.
Nick Robertson, the founder of online retailer Asos and a former Carat associate director, is placed at 389 after increasing his fortune from £123m to £177m.
Robertson started his career at Young & Rubicam in 1987 as a media buyer before going on to set up his own product placement business Griffiths and then Asos in 2000.
The founder of price comparison website Gocompare, Hayley Parsons, makes her first entry on the Rich List at 751 with a £95m fortune.
Daniel Ek, the 28-year-old co-founder of Spotify, is worth £15m, putting him at number 17 on the 50 youngest people on the Rich List.