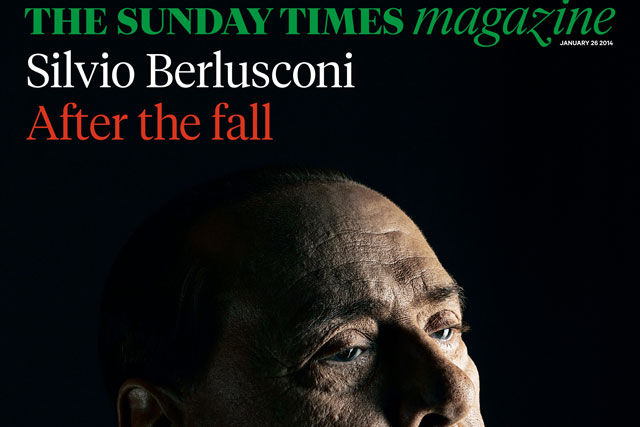 Activity will focus on one of the paper's pull-out magazine sections and comes as The Guardian advertises its "bigger, better Guardian and Observer weekend" papers, which now include the Do Something section.
Eleanor Mills, The Sunday Times' editorial director, told Marketing, "The Sunday Times outsells all its broadsheet rivals combined, so we really are a behemoth.
"The Mail on Sunday has been trying to copy us with its Event magazine but I don't think The Observer, The Telegraph or Mail on Sunday offer anywhere near the breadth or seriousness of coverage of The Sunday Times."
The Sunday Times has redesigned its print publications for the first time in five years with a "light-touch refresh" that will include a "taller and slimmer" magazine.
The first interview with Silvio Berlusconi in ten years will feature in this week's redesigned magazine, along with "amazing pictures of women fighters in the Congo".
The TV campaign launches on 2 February and will be supported by multi-channel activity as the paper moves to grow its 360,000 digital subscribers.
Mills claims that figures from December 2013 show that 207,000 people with a print subscription also subscribe to the digital package, while nearly 160,000 are digital-only subscribers to The Sunday Times.
Dwell time on the paper's iPad app has increased to almost an hour after digital editor Sean Ryan worked on introducing indexes that improves redirecting people to different sections .
The Sunday Times also aims to use digital to "plough back" readers' concerns into the paper to help shape stories.
The paper's seven-day NHS campaign resulted in 40,000 readers emailing their own experiences of the NHS, according to Mills.
She added: "We are about to launch a new health campaign that comes out of reader's response to the last one. They are alerting us to the things they are concerned about, which is exactly as it should be."
Mills believes the paper is "particularly trusted" and backs up her argument by claiming about half of its readers do not read any other paper during the rest of the week.