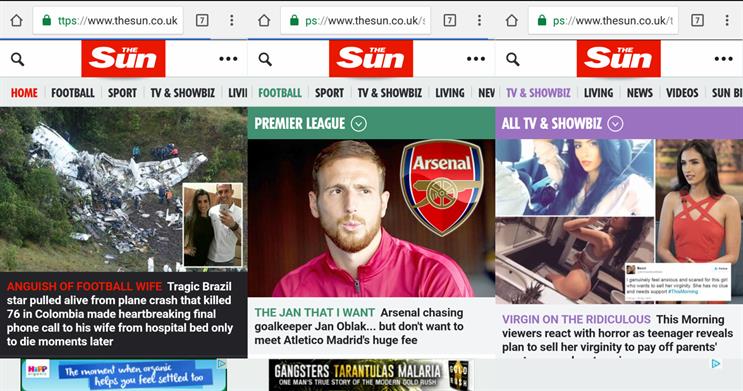 The tabloid paper saw an enormous boost in mobile traffic, with 16.5 million people accessing the brand by mobile, compared to just 1.64 million the previous year – a 909% increase.
Its relatively small PC readership was also up 91% to 2.08 million – but the print title saw the sharpest decline of any newspaper, down 8% to 10.7 million.
Keith Poole, The Sun's digital editor, said: "Since removing the paywall The Sun has pursued a mobile-first strategy aimed at bringing the maximum number of new people to the Sun online. This has proven a hit with readers and advertisers."
News UK stablemate The Times was the next fastest grower among nationals, enjoying a rise in total readership of 17% thanks to almost tripling its mobile readers.
But the brand's hard paywall means its audience of 5.76 million is still less than a quarter of the four most-read brands: the Daily Mail, The Guardian, the Daily Mirror and The Sun.
All of the other national papers grew their total readership with the exception of The Telegraph (down 3% to 22.2 million). All newsbrands combined grew their readership 2% to 47.7 million, with mobile readers up 10% and PC readers down 9%.
The Independent also shows a decline – 1%, to 16.9 million – but the figures for this year and last year are not directly comparable, as this year's do not include readers of the print paper, which closed in March, even though it was still in production for the first six months of the period.
But the title's 13% increase in mobile readers, lower than its four largest rivals as well as ESI stablemate the London Evening Standard, represents a bump to earth after the title's surging readership in the last set of data.
At the top of the table, both The Guardian and the Daily Mail lost readers on PC, as users increasingly made mobile their primary platform. But The Guardian's sharper decline (22% to the Mail's 16%) meant the Mail overtook it as the most popular title on PC.
But The Guardian's stronger mobile growth (32% to 21%) meant it overtook the Mail as the most read newsbrand on mobile.