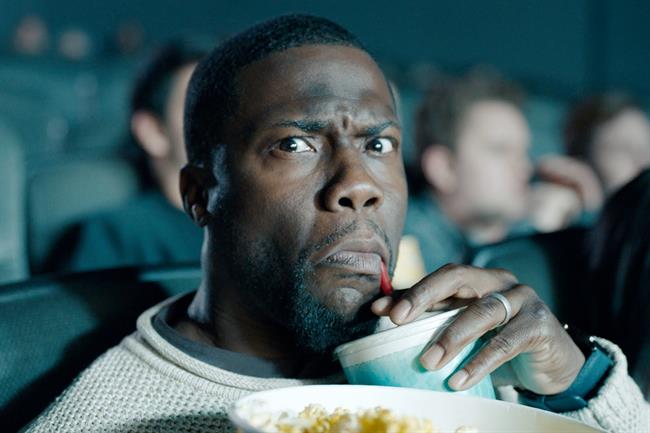 As the Super Bowl marks its 50th anniversary this year, the stakes are even higher for advertisers with a record price tag of $5 million (£3.5 million) per 30-second spot.
Campaign rounds up some of the best ads from brands that have already kicked off their Super Bowl campaigns.
Hyundai
The comedian Kevin Hart is an overprotective dad who follows his daughter's date using Hyundai Genesis' car-finder feature.
In a separate ad, a woman behind the wheel is distracted by dozens of men who look like the actor Ryan Reynolds, but luckily the car's auto-emergency braking feature saves her from a crash.
Pepsi
Pepsi, which is sponsoring the halftime show, is running an ad that shows the performer Janelle Monae dancing through 50 years of music history.
Toyota
A suburban man on his way to work lets loose when he drives a Toyota Prius. It is the brand's first Super Bowl appearance in over a decade.
No More
The organisation No More will run a domestic violence PSA for the second year in a row during the big game. Last year, its chilling video in which a domestic violence victim pretends to order a pizza went viral.
SunTrust
The American bank compares financial stress to holding your breath.
PayPal
"Move over old money, there's a new money in town", says PayPal in its Super Bowl spot that will air during the game's first quarter. This is the first instalment in the digital payment company's "new money" campaign.
Mountain Dew
A puppy-monkey-baby hybrid inspires a night of partying for three men in Mountain Dew's first Super Bowl ad in 15 years.
Michelob Ultra
Anheuser-Busch brings Michelob Ultra back to the Super Bowl with a fitness-focussed ad that shows athletes during their workouts. They recover afterwards with a cold beer.
Audi
A retired astronaut recalls his youth to the tune of the late David Bowie's "Starman".
Budweiser
Helen Mirren, a self-described "notoriously frank and uncensored British lady", minces no words in this PSA against drunk driving. The actress, who is sitting down to a Budweiser beer and burger, calls drunk drivers "oxygen-wasting… selfish cowards."
Skittles
Artists unveil a portrait made of Skittles to Steven Tyler, but the Aerosmith frontman is upset to find the portrait can't sing as well as him.
Honda
After a one-year hiatus, Honda is returning to the Super Bowl with a commercial featuring sheep singing the Queen classic "Somebody to love". The ad is for the 2017 Ridgeline truck.
Heinz
Wiener dogs gallop towards a lineup of ketchups, mustard and other condiments in this Heinz ad, which marks the beginning of a new campaign called "meet the ketchups".
Amazon
The tech giant is using its first-ever Super Bowl spot to promote Echo, its wireless speaker and voice command device. The campaign stars Alec Baldwin and Dan Marino, the former NFL quarterback, who are planning an epic game day party.
LG
Ridley Scott and son Jake Scott created the first Super Bowl ad for LG, which revolves around the new LG G6 OLED 4K televisions. Actor Liam Neeson warns a young man that "there is a revolution coming" and "the future, it must be protected."
Bud Light
The longstanding Super Bowl advertiser has recruited Amy Schumer and Seth Rogen for its commercial, which will feature the "Bud Light Party". The campaign, which is the first work from the brand's new agency Wieden & Kennedy, will run throughout the political season with a new tagline, "Raise one to right now."
Kia
Actor Christopher Walken surprises a man in a walk-in closet and proceeds to lecture him about socks. The auto brand's seventh consecutive Super Bowl ad will air in the third quarter after halftime.
Snickers
Marilyn Monroe gets ready for her close-up over a subway grate in this ad by BBDO New York. But in line with the brand's tagline "You're not you when you're hungry," Monroe is a little… off.
Colgate
Colgate takes a serious tone in its Super Bowl ad, reminding people to conserve water. The film says people waste up to four gallons of water when brushing their teeth, which is "more water than many people around the world have in a week."
Pokémon
To celebrate 20 years of the brand, Pokémon's 2016 Super Bowl spot shows a boy running over a mountain and inspiring other people to achieve great feats.
Doritos
Doritos is asking people to vote on the best ad for its Super Bowl slot. In this one, a pregnant woman is exasperated as her partner eats crisps during her ultrasound.
Wix.com
>em> Kung Fu Panda characters brainstorm ideas for a memorable commercial by recreating some advertising classics.
Quicken Loans
Quicken Loans, the largest online mortage lender in the US, is releasing its first Super Bowl ad this year. Created by Fallon, it will air before the half-time show and show the effect of new home purchases on the economy.
Avocados From Mexico
This is the second time Avocados From Mexico will advertise during the Super Bowl, which is a popular day for guacamole. In the spot, aliens tour an Earth museum that contains artefacts including emojis, chia pets, and the American actor Scott Baio.